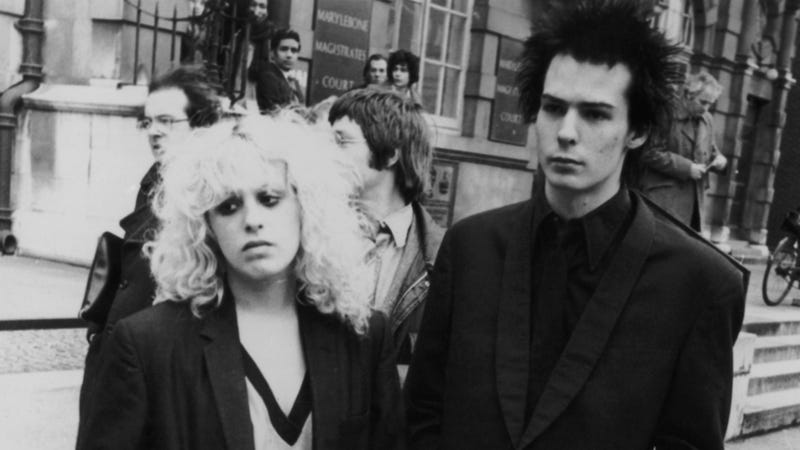 The Met Ball — a.k.a. the "Oscars of the East Coast" — is one of the biggest social events of the year. The red carpet is major: every celebrity and top model is expected to bring their A-game. And it all unfolds under the watchful eye of Anna Wintour, like some fashion Sauron. The theme for this year's ball is punk, in honor of the Met's Costume Institute exhibit, entitled "Punk: Chaos to Couture." This is causing some problems. Namely, the kind of people who can afford to go to the Met Ball — a fundraiser that reaps over $10 million for the museum every year — are by definition the kind of people who are like, "You want me to put that safety pin where?"
"We keep running into the same problem, which is that rich women don't want to look punk, or grunge," [designer vintage boutique owner Cameron] Silver said. "Not that many women want to look like Nancy Spungen."
#richpeopleproblems [NYTimes]
• Here is a giant list of which designers and brands are taking which celebrities to the Met Ball, if you care. [Fashionista]
• One person who won't be gracing the Met Ball red carpet? John Galliano. The disgraced designer has several pieces in the Costume Institute show that the ball fêtes, but he won't be walking up the Met's stairs Monday night. "One step at a time," quipped his publicist when asked about his attendance, "and that's one huge mother fuckin' staircase." [NYPost]
---
In this new ad, J.C. Penney formally apologizes to customers for everything ex-C.E.O. Ron Johnson did to shake up the store. Maybe it should instead apologize to the tens of thousands of employees who lost their jobs as the retailer's financials nosedived? [YouTube]
---
Kate Moss is on the cover of the new British Vogue. [Vogue UK]
---
Riccardo Tisci is doing the costumes for a production of Ravel's Boléro in Paris. Marina Abramovic did the set. [WWD]
---
• Yesterday in Bangladesh, the death toll from the collapse of a building that housed several garment factories officially topped 400. It now stands at 407. Over 20,000 Bangladeshis protested for stronger safety standards and a livable minimum wage — a May Day-appropriate demonstration if ever we heard of one. The European Union and the U.S., Bangladesh's number one and number two trading partners, respectively, are reportedly considering measures to encourage Bangladesh to improve working conditions in apparel and textiles production, its largest industry. [WWD]
• Vivienne Westwood is now designing uniforms for Virgin Atlantic airline staff. [Vogue UK]
• Gisele Bündchen shot an H&M campaign. [Grazia]
• When Julia Restoin-Roitfeld was pregnant, she felt that the maternity wear options available to her were lacking in one thing — sex appeal. This displeased her:
"It's no secret I like to dress a bit sexy and body conscious, and as soon as I was pregnant, it was like it was not appropriate to dress the way that I dress. And that really annoyed me, in a way," she says. "It's a wrong message that dressing feminine and sexy and being a mother can't go together."
The incredible baby swag she got from all her designer friends may have partly made up for that, however:
"Tom Ford gave me high heels for the baby," says Roitfeld. "They're a little kitten heel with a velvet rope that you tie. It's like a collection piece. I have to put it on the bookshelf, framed. I got leather diaper pants from Alexander Wang. And I got an amazing Givenchy shirt from Ricardo [Tisci] and this you can wear. It's from the season with the black panther."
[NYPost]
• The Council of Fashion Designers of America wants to promote American designers in China, so it's hosting a runway show by Proenza Schouler, Marchesa, and Rag & Bone at the Great Wall of China. Fendi held a show there in 2007. [WWD]
• The New York Times would like you to think that this is a story about why some young people in New York City are dressing, like, sooooo totally 90s right now. But really it's a story about how and when models went from being thin to thin:
The year was 1992; the scene, a fitting at Calvin Klein, where Nadja Auermann, the 6-foot fashion Valkyrie, was trying on the nude-tone slip dress she was to model on Mr. Klein's runway. "She totally filled it out in this voluptuous way," recalled Nian Fish, whose job as creative director of the KCD public relations agency was to oversee the proceedings.

An instant later, a scrap of a girl emerged from behind the racks to shimmy into the very same dress. "It was falling away from her body," Ms. Fish said. "We put sandals on her, and the whole silhouette changed."
That girl was named Kate Moss, and fashion was forever changed, the end. [NYTimes]
• Kimberly Ovitz has announced she will not be producing her fall collection, which she showed at New York fashion week in February. Retailers who had ordered the collection will be out of luck. Ovitz gave no reason for the suspension of her line. The brand's Web site is currently hosting a pretty cheap sample sale. [WWD]
• Fifth & Pacific, the company formerly known as Liz Claiborne, says it lost slightly less money ($52.2 million) during the quarter just ended than it did during the same period one year ago ($60.6 million). Sales at Kate Spade were strong, Juicy Couture and Lucky Brand not so much. [WWD]