So, how's the consumerist orgy side of Christmas faring? Well, retailers aren't consoling themselves with liquored-up eggnog, but they're not exactly decking the halls with crumpled-up greenbacks, either. But they're keeping their fingers crossed.
Women's Wear Daily reports from the front lines. It's not that the season is a disaster, exactly, so much as it's nothing special:
Most are seeing a last-minute rush of business, but it's nothing more than what was expected and planned for. As of Tuesday afternoon, there were no signs of any change in the outlook on the season. In a word or two, it's been OK, not great, lackluster in apparel, better in accessories, home goods, toys and electronics. Several retailers cited traffic declines in their stores which to some degree was offset by their online operations continuing at a robust pace.
They're all dressed up for the last-minute rush but it just doesn't seem to be happening like expected, although there's enough people who aren't done shopping it could crank up today: "There's been no big surge. It feels like a lot of people left town, though tomorrow [Wednesday] could be big," said the co-president of Mitchells Family of Stores, Bob Mitchell.
Fortune says last weekend helped, but not enough to make this year a doorbuster. I can personally attest that the suburban Barnes and Noble from which I am blogging looks like a random Tuesday afternoon, rather than Christmas Eve. I haven't seen a single relative or high-school classmate! It's weird.
G/O Media may get a commission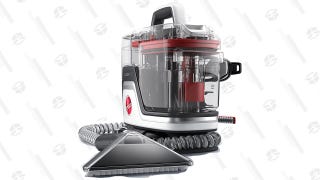 Save $10
Hoover CleanSlate Plus Carpet & Upholstery Cleaner
Maybe everybody's frantically booting up their computers instead of climbing into their cars. An interesting observation from the piece: Bloomingdale's CEO Tony Spring said it's been a good holiday season, noting that their option to shop online but pick up in-store has brought more people into their stores. And as this Wall Street Journal report says, there've been a lot of people frantically ordering online at the last minute—enough that FedEx and UPS are telling some retailers to reel it in, to avoid last year's clusterfuck:
This year, the delivery giants encouraged retailers to plan ahead and cautioned that they could be out of luck if their packages over the holidays exceeded closely negotiated deals. UPS had called on retailers to tone down promotional offers and free overnight-shipping promises on Dec. 23, when time is tight and the room for error is minimal.... A spokeswoman said UPS has held to its plans. For customers trying to ship more volume than expected, the answer depended on the region, the number of packages and other factors. "Some we said yes, some we said no," she said.
The upside is if you just realized you forgot something for great-aunt Mildred, you can probably brave the mall without worrying about a literal melee.
Photo via Getty.