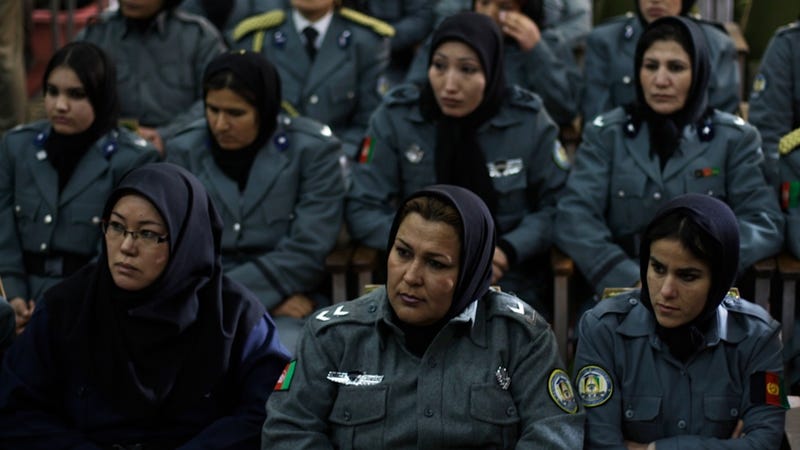 There's a huge barrier standing between Afghanistan's female police officers and on-the-job security. Want to guess what it is? Here's a hint: it has nothing to do with, say, needing more kevlar vests or working in a destabilized, war-ravaged country. What the Afghan women serving in the police force really need are their own designated bathrooms, free of peepholes and harassment from their male colleagues.
A new report from Human Rights Watch stresses the urgent need for discrete female bathrooms for female police in Afghanistan. Why there aren't already discrete bathrooms for female police has something to do with bureaucratic inertia and outright misogyny among police commanders and members of the Ministry of the Interior, but the report is unnervingly clear — women who enter the police force in Afghanistan (a career path that is often taken out of material need rather than civic idealism) face a workplace where harassment is seemingly ubiquitous.
According Heather Barr, a Human Rights Watch researcher, "The lack of access to safe, locking toilets is a factor that makes women more vulnerable." She shared some particularly stark realities about women in the Afghan police force with NPR's Sean Carberry:
She says there are virtually no separate, locking bathrooms for policewomen in the entire country. Male officers do everything from making peepholes to cornering and assaulting them in bathrooms.

Barr says this is one of the main reasons there are only 1,500 female officers in the country, accounting for roughly 1 percent of the national police force.

It's obviously difficult to recruit women when the evidence shows they are very likely to experience sexual abuse. So, building secure, segregated bathrooms and changing rooms would go a long way to reducing the sexual assault and motivate more women to join the police force.
Although Barr has brought the pervasiveness of police force harassment to the attention of the Ministry of the Interior, she says that there's been little progress, which either means than police commanders aren't getting the trickle-down message, or that Afghan leaders don't much care about female officers.
I don't know if the Afghan government really wants women in the police force. I don't think that there's been much of a genuine appreciation at the local police commander level, and perhaps at the Ministry of Interior level either, of why it's really necessary to have women in the police force.
Human Rights Watch has yet to find a single instance of a male officer being prosecuted for assaulting or harassing a female colleague, which only means, according to Barr's research, that reporting an instance of assault or harassment is potentially more dangerous for an Afghan woman in the police force than simply saying nothing at all. As long as no one is held accountable for harassment in the police force, women with few money-making options other than police work will continue to fight a two-front war: they'll be battling the lawbreakers they've been tasked with policing, while simultaneously fending off the lawbreakers they've been tasked with working beside.
For Afghan Policewomen, Danger Often Comes from Colleagues [NPR]
Image via AP, Dusan Vranic