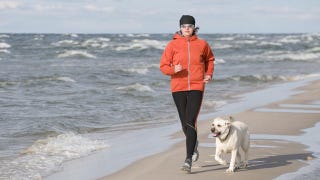 Several studies show dog owners get more exercise than people who don't own dogs, and they may be even better exercise buddies than humans. New research found that among people who take their pets for regular walks, 60% are getting the recommended amount of moderate or vigorous exercise. Only a third of the dogless get that much exercise. A separate study of the elderly found people walk faster with canine companions than they do with humans. Plus, dogs won't talk you into staying on the couch and working out tomorrow.
March Madness tournament players can count this as a victory for Team Dog.
Image via Gorilla/Shutterstock.