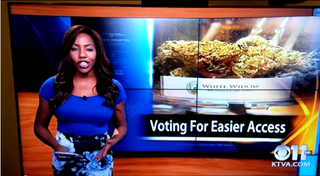 Charlo Greene is celebrating like crazy today.
If you don't remember who Greene is, she's the perfectly named marijuana legalization activist (and official Jezebel life coach/hero) who quit her job as a reporter on live TV with a bold "fuck it, I quit." Yes, it was the "fuck it" heard around the world. Greene said she quit her job to fight to legalize pot in Alaska, her home state. She launched a successful Indiegogo campaign to help fight "a failed drug policy that has ruined the lives of far too many Americans," as she put it. Looks like her hard work (and viral swearing) paid off. Via the Alaska Dispatch News:
On Tuesday, voters approved Ballot Measure 2, an initiative legalizing recreational marijuana in Alaska, by about 52 percent in favor to 48 percent opposed, with 100 percent of the state's precincts reporting.
After the election, Greene posted a victory message to her Facebook page. "Honestly, I don't even know what to say right now," she said. "Aside from the fact that we just made history. It's a fact. We just made history for doing a good thing. Congratulations."
Congratulations, Alaska. You're officially a more appealing place to visit than Florida.
Watch her message here: