There is something inherently creepy about the fact that this season's Reem Acra bridal collection was inspired by various children's characters like Alice in Wonderland, Raggedy Ann and Strawberry Shortcake. (Paging Dr. Freud!) And yet — thank goodness for Reem Acra, because, if not for her, we would all have been faced with one of the most boring (if not just plain bad) bridal seasons of recent memory. Acra's gowns explode with color, whimsy, and (what a relief!) point of view. At last, a designer who applies the concepts of high design to the world of bridal design, which is so frequently dismissed as the height of banality. Whether her almost-Lolita-esque designs are your cup of tea is another story altogether, but I can't help but applaud design that tells stories and isn't afraid of a little reckless, feckless imagination. The collection, of course, after the jump.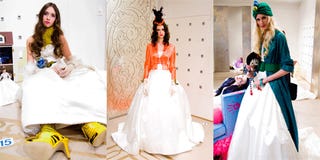 L to R: If I got married, I would want to do so in shoes like those; Can we discuss the big hat trend for bridal this season?; Fuck getting married: I want that teal duster and turban stat.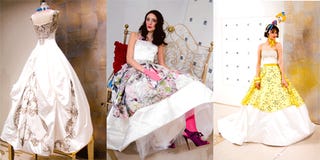 L to R: That dress weighs more than I do; I'll pass on the gown but take the pink tights; Doesn't this look like the dress that Kit and Ricky made for the couture challenge on this season's Project Runway? You know - the one Kit got sent home for?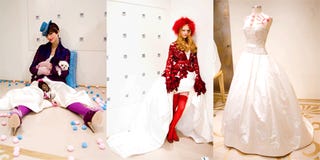 L to R: Puppy!; Where's the wedding, the Moulin Rouge?; I wish the handprint were on the dress itself.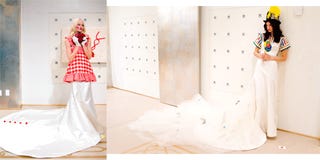 L to R: Pom-poms were my crafting means de rigeur when I was 5, which was also the age I was into Raggedy Ann; More wedding pants?!; I don't know that I think of this.

You can't see, but my heart is going pitter patter at the site of rainbow-colored, whimsy-drenched bridal.

I hope the woman who gets married in this dress also has "Mona Lisas and Mad Hatters" as her first dance. Seriously.
Final Verdict: If your marriage falls apart, at least you can reuse the dress and run away and join the circus!
All images via Getty.