r/CreepShots is gone, but Redditors aren't having any problems finding ways to post sexualized photos of women — and underage girls — without their consent. Subreddits with links to hundred of photos of nearly-naked young girls are still easy to find, and without more moderation, there's nothing to stop them from becoming as popular as their banned predecessors. We spoke with Reddit's co-founder and general manager, who made it clear that they think barefaced child porn is wrong, but that tracking down sexual predators isn't as much of a priority as reiterating the importance of free speech.
Samantha, the 25-year-old Redditor behind Predditors, is still outing creeps who aren't technically breaking the law by taking photos of unknowing women on college campuses and public transportation, but now she has a new side project: targeting creeps who are actually breaking the law — and Reddit's own rules — by creating subreddits dedicated to the sexualization of minors.
"We found images of minors in almost every nsfw sub there is," Samantha wrote to us in an email that included over a dozen subreddits that rely on sexualizing minors, ranging from r/preteens and r/cuties, which host actual child porn, to r/TeenSluts, r/teen_leotards ("Absolutely no nudity. But, no matter how tight it is as long as it is completely covered it is okay. Photos should depict models/amateurs under 20 years old") and r/nonnudeteens. ("Post all pictures of teens from any source as long as no nudity is presented.") The moderators are great at staying under the radar; for example, in r/nonnudeteens, there are only three posts, but each one is a photo album with over 100 photos of very, very young girls in skimpy bikinis and underwear.
G/O Media may get a commission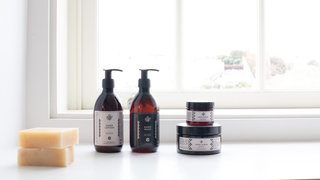 Exfoliate and Hydrate
The Handmade Soap Company
Samantha also came across underage Redditors who post photos of their classmates and underage girlfriends on subreddits like r/girlsinyogapants, the subreddit where many of the original r/CreepShots posters have migrated. "The best butt at my school," one Redditor posted in r/VolleyballGirls, along with a related photo. "Wait...that's MY school! Who is this?" another Redditor asked. "...this is my school and i know this girl," another one said. On many threads, Redditors argue over whether they should post photos of girls who are clearly in high school. "Stop bitching and keep your mouth shut before the babies come out," one warned.
"If there is actual child pornography [on subreddits], we sincerely hope your source also reports it directly to the admins and not just press," Erik Martin, Reddit's general manager, told us in an email, adding that "We ban anything illegal and we ban subreddits dedicated to sexualization of minors as stated in our rules. We report any child porn to NCMEC/FBI in accordance with their guidelines and definitions. We take this very seriously and have an excellent track record."
We also asked Reddit co-founder Alexis Ohanian — who, along with Martin, recently returned from an "Internet 2012" bus tour which some have called the beginning of his campaign to be "President of the Internet" — for his thoughts. "I'm not happy that my sisters have to worry about being recorded in public, but I'm happy a police officer (for instance) has to worry about this the next time he's doing a stop & frisk," Ohanian wrote in an email regarding the concept of public vs. private space. "These social media platforms are incredibly enabling and for the vast majority of people, that's a great thing. But there have always been assholes, who now have a platform to behave badly at scale. We as the internet public, most of whom I believe to be good, need to develop solutions."
"We at reddit don't host any of the content, but provide a platform for people to share links and discussions about whatever legal content they want," Ohanian told us. The "Reddit is just a platform" argument is one he repeats often. But Reddit isn't just a platform. It's a community, and it's a community that disenfranchises women, evidenced by those who try (and fail) to access its top ranks and those whose photos appear without their consent and therefore aren't granted the same privilege of privacy that Redditors demand.
Why did Samantha come to us instead of reporting the subreddits to Reddit's administrators? Because she believes "they'd sweep it under the rug" and new subreddits would pop up instead; the site tends to only ban subreddits with links to illegal content if it receives a significant amount of negative media attention. "This will continue until Reddit hires people to actively search out and hard delete this stuff," she said. "Right now they're relying on user reports, but that doesn't work when only pedophiles are looking."
Samantha didn't just contact Jezebel, though; she was able to identify one man who posted photos of high school girls from his hometown of Avon, Indiana and emailed his local police department. "We need more citizens like you to report these types of images," Detective Jeremy A. Chapman wrote back to her. "Thanks again for your help."
Does Reddit similarly appreciate Samantha's method of outing Redditors whom she considers sexual predators — better known as "doxxing" in the Reddit community, which is against Reddit's rules? It doesn't seem so.
"People need to report any possible CP to us as I said before," Martin said when we asked him specifically about Samantha's sleuthing. "If they also want to report it to anyone else that's up to them. If they do not report to us they are not using the best chance to actually help children in danger or stop abusers." Ohanian backed Martin up, adding that "Reporting to reddit allows the team to also use their relationship with NCMEC to assist in locating the child (with local authorities) and (ideally) prosecute their abusers."
But Redditors like Samantha don't have faith that Reddit will follow up on all possible links to sexualized images of minors — especially given Reddit CEO Yishan Wong's recent comments to the site's moderators, in which he reinforced his commitment to continue to "ban the posting of personal information, because it incites violence and harassment against specific individuals" (photos of unknowing women are apparently not considered "personal information," even if they're identifiable) and said legal content should never be removed, even if "we find it odious or if we personally condemn it." (Wong did not respond to request for comment.) With that in mind, is it conceivable that Reddit's moderators would seriously investigate subreddits that ban nudity or sexual comments, even when the vast majority of photos are clearly sexualized photos of very young girls? Samantha doesn't think so.
A recent study by the Internet Watch Foundation (IWF) found that 88% of self-made sexual or suggestive images and videos posted by young people are eventually taken from their original online location and uploaded on to other pornographic websites at a rapid pace; of the 12,224 images and videos monitored by researchers on 68 different websites, 10,776 were subsequently found on parasite websites. And these are just the photos taken by young people themselves.
Maybe it's not Reddit's responsibility to spend more time making sure its users aren't promoting and spreading kiddie porn and/or linking to other less blatantly illegal but disturbing content. (They clearly don't think it's their place to do the latter.) These issues can be tricky and case-specific. But you'd think that a guy who wants to be President of the Internet — and Reddit's other leaders — would have more to say about the seedier aspects of their online empire than "free speech is important" and "people can be shitty," given that their constituency is not solely comprised of heterosexual men with a passion for objectifying women.
So far, though, that's all they've got.
Image by Jim Cooke