So much is going on in the Real Housewives franchise right now. Danielle successfully got the release of her sex tape blocked, reunion host Andy Cohen got his own late-night talk show, and the Atlanta season premieres July 30.
1.) Danielle's Messes
As we learned from court documents dug up by The Smoking Gun, Danielle's past was pretty accurately portrayed in Cop Without a Badge — extortion, kidnapping, drug cartel, prostitution whoring, cocaine use — despite the fact that she said that the only two things that were true was that she was arrested and changed her name. She denied most of the accusations in an interview with People last week, particularly about the cocaine, saying, "I was a pothead. Period." It should be more like Ellipsis…
Staub was charged with one felony count and convicted of extortion; she "worked for an escort service," according to an FBI agent on the case; and she was sentenced to drug treatment and weekly urinalysis tests for six months. Two years later, her substance abuse counselor recommended that her "drug aftercare" program be extended, "considering the severity of Beverly's drug history and her former drug life style."
But Danielle did have a win today when a judge ordered an injunction banning the release of "any sexually explicit video or pictures of Danielle Staub and her former boyfriend Stephen Zalewski" until a hearing next month. She also filed a lawsuit against Steve, claiming that he filmed their intimate moments without her knowledge, and that this has caused her children "emotional distress." She says he just trying to grab some of her attention.
Check out the preview from part 2 of the reunion, which airs on Thursday.


2.) Andy Cohen
Andy — who is mostly known to audiences as the host of all the Real Housewives reunion shows, but is also Senior Vice President of Production and Programming at Bravo — weighed in on both Danielle and last night's reunion on his blog, saying, "I wish I'd have pushed Danielle about her eyebrow lift because it looks to an amateur like me like she had one." We were thinking the same thing!
G/O Media may get a commission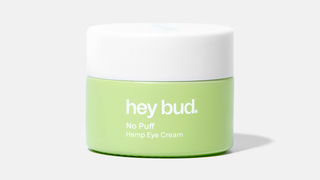 15% off
Hey Bud - No Puff Hemp Eye Cream
We're gonna be seeing a lot more of Andy because he apparently has his own talk show now. Watch What Happens will air weekly on Thursday nights at midnight, beginning next month. It will include interviews with cast members from Bravo's different reality series.

3.) Real Housewives of Atlanta
The second season of the series will premiere on July 30, with a new cast member: Kandi Burruss, a former member of the girl group Xscape. There's already drama involving her fiancé, who is accused of being a deadbeat dad and a drug dealer.

The description of Kim on Bravo's site is priceless:
When We Last Saw Her: Weeping on a couch at the Reunion Special. Kim's castmates accused her of lying about her cancer, while Kim recalled waiting for the diagnosis at Chili's.
Also: She put out a single called, "A Crack in the Foundation" and this season will show her struggling to launch a wig line!
NeNe seems to be doing okay, considering that she was in a financial shitstorm after last season wrapped. This preview clip from the upcoming season shows her living in a new fancy house and hanging out with that stylish gay guy who continues to use the word "dreadful" to describe things.


4.) Bethenny's Mouth
The Real Housewives of New York City will begin filming for the third season at the end of the summer, according to an interview with Bethenny. She also talked about Kelly Bensimon, saying, "She's a complete and utter idiot."
On her blog on E!, Bethenny opined about the New Jersey reunion. My personal fave was this: "How can I delicately say the following but just to say it? Is Teresa a total moron?"
But this is also a very good point:
I disagree that even if Tamra or Jill lived in Sicily that anyone would think they have mob ties. Some of these Jersey girls really fit that mold. The jobs in construction, the name Teresa, the furniture for cash, the big McMansions, the German shepherd and the best friend of Caroline's who is the former police commissioner who used state money for shady activities. Go figure why these rumors started.
5.) Record Ratings
Bethenny may have thought that the reunion was boring, but a shitload of people watched it. It was the highest-rated reunion episode ever, and made Bravo the No. 1 cable network in the hour (also out-delivering broadcast networks FOX, ABC, CBS and the CW) among adults 18-34.
Judge Stops Release Of 'Real Housewives' Sex Tape [Yahoo]
Housewives of NJ: New Details Emerge From Danielle's Past [People]
"Jersey" Girl's Sordid Past [TSG]
NJ Housewife — Reality Show Good, Sex Tape Bad [TMZ]
Danielle Staub Of 'The Real Housewives of New Jersey' Has A Very Real Criminal Past, Documents Show [NY Daily News]
'New Jersey Housewife' Danielle Reacts To Sex Tape [Entertainment Tonight]
Bravo To Stay Up Late [NY Post]
Atlanta Housewife Kandi Burruss Defends Her Man, 'He's Not A Deadbeat or Drug Dealer' ! [Singers Room]
Five Questions For Bethenny Frankel [Star Tribune]
Real Housewives Of N.Y.'s Bethenny Frankel On New Jersey Reunion: "Boring" [E!]