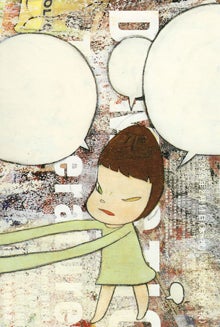 According to today's best comments, Sarah Palin is one cheeseburger short of a Happy Meal.
• Best Comment Of The Day in response to Cheeseburger Found In Woman's Gas Tank: "This really isn't that surprising, McDonalds has been giving me gas for years." • Best Comment Of The Day in response to Ellen And Kara Out, J-Lo And Stephen Tyler Possibly In At Idol: "Period Robot Movie? What's it called? Are You There, God, It's Me, Skynet?" • Best Comment Of The Day in response to An Expert Analysis Of Sarah Palin's New Cover Design:
The font says "I'm bold!"
The hair says "I'm sexy!"
The bangs say, "I'm a hockey mom!"
The glasses say, "I'm smart!"
The "jewelry" says, "I'm Americaner and stronger than you!"
The sweater says, "I'm soft!" and "It's cold in Alaska!"
The clenched fist says, "I attack!"
The title says, "I look in the mirror too much, I have a lotta kids and flags are good!"
The whole thing says, "No need to read the book! Reading is for elitist socialists!"


Reminder: Rather than emailing us your daily comment nominations, we'd like you to submit them in the tips box at the top of the page. So send us your nominations via that box — complete with the outstanding comment's URL — and tag your nomination #cotd. (Replying to a comment with "#cotd" does not work.) From here on out, we'll mine through the brilliance via the Comment of the Day tag page.
For meetups, use the meetup tag page!
Oh! My God! I Miss You" />