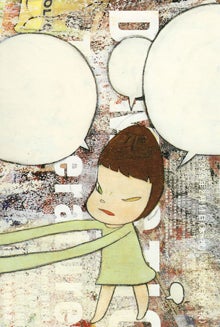 Today's best comments are on a diet and taking over the universe.
Best Comment Of The Day, in response to We Hope It's Not Pink: "An entire generation of Freudian psychoanalysts just fainted." • Best Comment Of The Day, in response to In Which Salon Owners Say Stupid Things: "I have recently decided to go on the Photosynthesis Diet, and I'm outraged that I'm being discriminated against. Where will I go to eat after dark?" And! "So. You've finally figured out the EVIL DEMOCRAT AGENDA. Yes, it's true- tanning beds were only a distraction. We are really after the Sun. We are going to use our evil socialism ray gun to blow it to solar bits! There shall be no life on Earth after we have destroyed it! No life at all! Ahahahahahahahahaha!" • Best Comment Of The Day, in response to Allure Readers Still Wonder What "Chicken Of The Sea" Is: "Wait, wait - what is this makeup thing they speak of? You mean I don't have to melt crayons on my face anymore?" • Best Comment Of The Day, in response to Gender War Won: "What's more annoying is the headline on the Daily Mail website: 'Finally the Proof All Women Have Been Waiting For.' Yep, that's right Daily Mail, ALL WOMEN EVERYWHERE have been waiting for "proof" that we are smarter. In fact, now that we have that proof (thanks to Trivial Pursuit), the wage gap will be closed, rape apologists will be forced to shut up, and our reproductive rights will be ensured. Thanks so much, Trivial Pursuit and Daily Mail! I can sleep peacefully tonight." •
Special Mention: The Winner Of The Hilarious "True Story" Of The Day Award is here!
Reminder: If you see a great, funny, insightful, eloquent (or awful) comment, nominate it! Email the comment and the timestamp link to the left of the comment to Hortense at commenters@jezebel.com.



Meetups? Use the meetup tag page!


Oh! My God! I Miss You" />