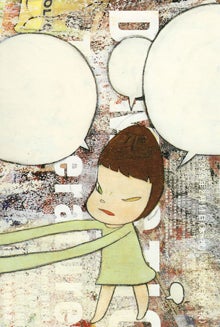 It may be Presidents Day, but our commenters didn't take the day off.
Best Comment Of The Day, in response to Study: Women, Young People Blame Victims For Sexual Assault: "Doctor! Prepare 10 CCs of Jezebel and an IV drip of feminism for British Womandom, STAT!" • Best Comment Of The Day, in response to Tila Tequila Says She's Been Approved To Adopt A Russian Baby: "Reading Tequila and drinking tequila have the same effect on me. A lot of talking nonsense, followed by a pounding headache." You Say: "Accompanied by a sense of disorientation, vague remorse, and the barely contained urge to vomit?" • Best Comment Of The Day, in response to Animated Documentary Makes Single Women Look Comically Pitiful:
Songs from my film about the Single life:

"Oh No, What Time Is It?"
"God Damn It, I Need A Louder Alarm Clock"
"Are the Seams Of These Pants Supposed To Be on the Outside?"
"When Is Lunch?"
"I Hope My Job Doesn't Monitor Internet Use"
"When Is Dinner?"
"Drinks With Friends"
"Sweet, There Is A 30 Rock On Hulu That I Haven't Seen"
"My Current Lifestyle Allows Me the Time to Read and Write and Focus on Things That Are Important To Me"
"Jon Stewart: A Love Song"
"Bed Time! Ack!"

Man. Being Single is the worst.
Reminder: If you see a great, funny, insightful, eloquent (or awful) comment, nominate it! Email the comment and the timestamp link to the left of the comment to Hortense at commenters@jezebel.com.



Meetups? Use the meetup tag page!


Oh! My God! I Miss You" />