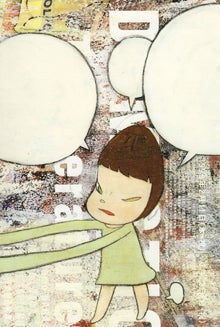 Super funny, and totally disgusting.
Best Comment Of The Day, in response to Cutting A Rug: "Another shag of Rebecca Gayheart's caught on film." • Best Comment Of The Day, in response to Jersey Shore: Snooki "Sluggo" Apologizes: "It's all fuzzy, don't blame me. Blame her, or the alcohol, or the weather, but don't blame me. Sounds like a pretty crappy Milli Vanilli song." We say: Girl, you know it's true. • Best Comment Of The Day, in response to Has The Word "Bitch" Lost Its Bite?: "'Bitch' is much better used as a verb. In fact, that holds true for most swear words, especially the gendered ones. 'We were bitching about work when suddenly he had to dick it up with his mansplained, so I just cunted him right there before he could ass about anything else. Sure, he's been slutting around ever since, but at least we had a good twat about it!'" (You say: "Grandma? Is that you?")
In addition, I'm just nominating EVERY COMMENT in the McNuggetinis, "Church Wine," And Other Beverages One Should Never Imbibe post. andBegorrah summed it up perfectly: "@this entire post: It is really awkward to laugh and dry heave at the same time. So thanks, and fuck you."
Reminder: Best and Worst comment nominations (please email the comment and the timestamp link to the left of the comment) should be sent to Hortense at commenters@jezebel.com.



Meetups? Use the meetup tag page!


Oh! My God! I Miss You" />