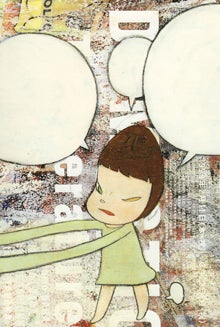 Monday's best comments:
Best Comment Of The Day, in response to What's So Strange About A Well-Spoken Sex Worker?: "Scientific fact: for every peen that goes in, 10 IQ points go out. Which is why my IQ is currently: PUPPIES. " • Best Comment of The Day, in response to Shopping With "The Lohan's": "Well, you know what they say. The path to Grey Gardens is paved with good intentions." • Best Comment Of The Day, in response to A Year In The Life & Wardrobe Of Lady Gaga: "I love the first look. She looks like The Phantom, except more fabulous, and is being choked by a pair of feather jazz hands. It's like she read my screenplay: Phantom II: Revenge of the Bird Goddess of Steampunk." • Best Comment Of The Day, in response to "Betty Crocker's Cake Mix Secrets Help Husbands Beat Wives!": "Hopefully they used this double entendre approach for other markets too:
For the Carefree single gal: Want cake for breakfast? Betty Crocker makes it easy for you to Wake-N-Bake everyday!
For the cat lady: I'd rather eat my own pussy than off-brand cake mix.
For the single man who enjoys baking: Get that sausage out of your mouth, and have some cake instead!
For the white supremacist: Show the world you're a master - race to bake the perfect, white cake in minutes with Betty Crocker."
Reminder: Best and Worst comment nominations (please email the comment and the timestamp link to the left of the comment) should be sent to Hortense at commenters@jezebel.com.



Meetups? Use the meetup tag page!


Oh! My God! I Miss You" />