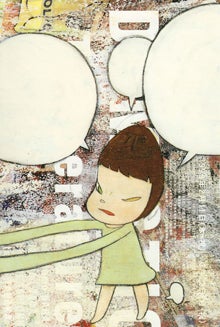 Wednesday's wild!
Best Comment Of The Day, in response to Art In America: Painting Gets Pulled From White House Following Furor: "There's a Thomas Kincade art gallery in my home town. The concentration of inanity is so intense, it has its own gravitational pull, so you have to kind of tug left on your steering wheel as you drive by or else you'll hit a parked car." • Best Comment Of The Day, in response to How To Make Enemies And Alienate People: "If Lindsay ever resurrects her role in a remake of The Parent Trap, I have a feeling that it will feature an actual bear trap with a TMZ camera affixed to it." • Best Comment Of The Day, in response to This Week In Tabloids: Details On Angie's Lesbian Affair & Lindsay's Face: "We should make a normal person tabloid:
Pregnancy: Not so fun.
Sex Tips: Have sex. Use protection.
Who wore it better? The jeans and college sweatshirt version.
Is your boyfriend Textrosexual? No.
Your Dark Secret: Sometimes you wear the same pants for a week.
What's wrong with your face? What? Shut up! What's wrong with your mom's face?"
Reminder: Best and Worst comment nominations (please email the comment and the timestamp link to the left of the comment) should be sent to Hortense at commenters@jezebel.com.



Meetups? Use the meetup tag page!


Oh! My God! I Miss You" />