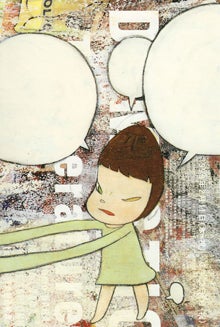 I could use a drink. A toast to Thursday!
Best Comment Of The Day, in response to "The Admiral Is Hilarious": " Cylon tip # 234: If you can make a human laugh, you might get an opening to kill them. Yo' mamma jokes are iffy, sometimes they hit too close to home. Instead, try knock-knock jokes followed by a blaster." • Best Comment Of The Day, in response to Our New Look: Let Your Fingers Do The Talking: "I guess I picked the wrong day to stop sniffing glue. I need a Jitterbug version of Jezebel...Like with oversized comment boxes and posts." • Best Comment Of The Day, in groupthink, whatever that is: "In our time of terror I think we should join hands and pray. Our Editors, who art on Jez, hallowed be Thy Accounts. Thy website come, thy redesign be done, on Jez as it is on Gawker. Give us this day our open thread, and forgive us our inane comments, for we know not how Twitter functions. And lead us not into bodysnarking, but deliver us from ladymags, for thine is the thoughtful posting, the Snap Judgements and the Photoshop of Horrors, for ever and ever. Amen."
Reminder: Best and Worst comment nominations (please email the comment and the timestamp link to the left of the comment) should be sent to Hortense at commenters@jezebel.com.

Oh! My God! I Miss You" />