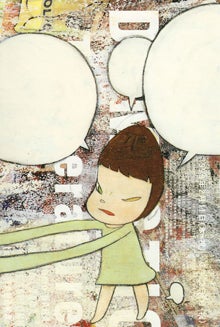 A note about the comments today (and every day):
Please remember that only the best, wittiest, most insightful comments are to be "featured." Promoting comments or threads that are not highlights of the discussion is strongly discouraged, and may result in the loss of a star. There should be no promoting trolls, promoting comments which are off-topic/dumb or promoting threads that have been demoted by a moderator. If you have a star, and you respond to grey comment — from an unstarred commenter — you are promoting it. So please: Take care in what is promoted, and which comments you're responding to.
Here's a refresher:
Characteristics of a good comment:
•Insight/additional information
•Intelligent critique
•Wit/humor
•Calm, courteous, reasoned disagreement, either with the opinions/facts presented in a post itself or with other commenters
•Sharing of relevant, personal anecdote (within reason)
Characteristics of a bad comment:
•Attacks on other commenters or Jezebel editors
•Deliberate provocation/trollishness
•Excessive vulgarity
•Self-promotion
•Banality/Overshare
•Creating/contributing to an echo chamber: ("So cute!" or "I hate...")
•Whining/Complaining: ("I don't want to read about this, can't we see pictures of puppies?")
•Irrelevance: "I don't know who this person is" or "First!"
•Assumption/speculation over an editor's motivations: ("This post was only put up in order to garner [editor name] pageviews")
•Posting copyrighted material: (posting large swaths of news articles in comments instead of just linking to another page)
•Thread hijacking
For further information, click here.
Reminder: Best and Worst comment nominations (please use the timestamp link to the left of the comment) should be sent to Hortense at commenters@jezebel.com.

Oh! My God! I Miss You" />