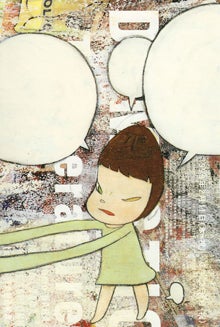 Some Wednesday wisdom:
Best Comment Of The Day, in response to But Can It Act?: "Is your vagina suffering from insecurity? When you enter a room, is your vagina the star of the show, or hiding in a corner? Is your vagina terrified of new situations? I'm currently making a video series as we speak. It's called, 'Vagina Power!' For just three easy payments of $19.95, you too can learn how to empower your vagina! Learn confidence today and wow your friends!" And: "There's actually a completely separate profile about her vagina alone - it has actually spent years in the recording business, though it's laid low for a few years, since the success of OutKast's Speakerboxx/The Love Below album, for which it was the inspiration." • Best Comment Of The Day, in response to Operation Rescue Broke After Tiller's Murder: "Every time a hate group dies, an angel gets its wings."
Reminder: Best and Worst comment nominations (please use the timestamp link to the left of the comment) should be sent to Hortense at commenters@jezebel.com.


Meetups? Please post!

Oh! My God! I Miss You" />