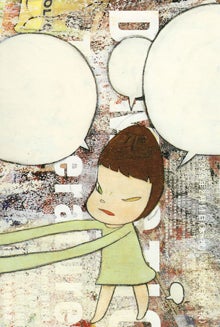 The noted comments of the day:
Best Comment Of The Day, in response to Part Of Our World:
"FUCK ME I'M OLD.
Also, happy birthday, Ariel. Here's how I think the past 20 years went with our favorite little mermaid:
Year 1: Congratulations, newlyweds! Ariel and Eric set up shop in the castle, with Scuttle and Flounder taking up residence there, as well (salt water tank for the fish, of course).
Years 2-4: Bumps in the road. Ariel's concerned about the possible fishtails on her future royal children, while Eric is increasingly distant, going on long and frequent sailing trips with "the guys".
Years 5-7: Ariel finally fires the chef for excessive French laughter and being far too fond of seafood; hires a young continential chef who specializes in beef, lamb and veal. Flounder goes belly-up, get royal funeral (Scuttle has long since flown the coop, his drinking having become a problem at several state dinners).
Years 8-10: Children! Ariel has twins (because what's a fairy tale without a multiple birth?), one be-finned, one with working legs.
Years 11-14: With the heir and the spare growing up strong and healthy (if half flippered), Eric runs away with the chef, never to be seen again.
Years 15-18: Ariel grieves; Arial drinks; Ariel slashes the sails on Erics favorite ships. With two children to raise, Ariel drunk-shops on Amazon for many and sundry self-help books.
Years 19-20: After finishing Eat, Pray, Love, Ariel remembers that she's a queen with a royal fortune and a hell of a voice; using her considerable wealth, Ariel secures a spot on Britain's got Talent, digs the shell bra out of storage, gives spectacular performance.
Today: Ariel is the head of her own record label, and spends her days scouting new talent in underwater caverns, shiepwrecks, and sham marriages." We say: Poor, unfortunate soul!
Oh! My God! I Miss You" />