"In the age of knowing what you're made of, there's no room for erectile dysfunction," says Viagra, who claims that their most recent batch of commercials show men "engaging in daily activities without letting anything get in their way." Right: they don't let anything get in their way of BEING HOT.
The nearly identical commercials were cast with nearly identical dudes. But though they are nearly identical, some are clearly hotter than others. Below, a ranking.
9. Random Dudes Jogging, Surfing, Being a Cowboy and Hiking
Your appearances are too brief for us to really know about you. Come back again so we can decide if you are going to use that bionic penis for good or evil.
G/O Media may get a commission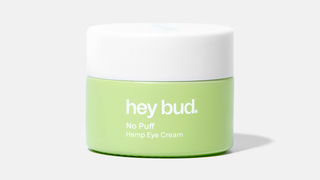 15% off
Hey Bud - No Puff Hemp Eye Cream
8. The Dudes Who Have Viagra Delivered Straight to Them at Home
Did you know you can have Viagra delivered straight to you at your home?
That's the home that you fuck your wife in, btw.
7. The Dude Who Builds Bridges
This man will build you a bridge to somewhere.
It's dark out while he's building that bridge, so it's kind of hard to see his face.
There it is!
His wife/partner is into this face.
*beep beep* [Car unlocks] "Honey, I'm coming home!"
6. The Dude Who Sails Boats Alone
Look at this Calm Dude, who is out for a sail alone, just feeling the wind on his face.
You are the boat and Calm Sailor knows how to reach into your hull and Get Things Done.
Things might even get a little ~frisky~ on the way there.
But he's still Calm.
Good with his hands.
Good at staring at the sea.
Good at following the North Star via the Good Ship Viagra home.
5. The Dude Who Fishes
This Dude doesn't just fish – he fishes for a living.
While on his fishing boat, he fixes things that go awry.
In between fixing things, he stares at the sea.
All is well there, because of him.
Now that all is well on the boat at sea, Fishing Man can return home.
His wife and their station wagon are very glad to see him.
4. The Dude Who Knows Horses

Horse man wears a cowboy hat.
He is strong, silent and knows his horses.
Very silent.
Maybe not so silent at his happy home though...
3. The Dude Who Fixes Cars
This man has a nice car and is going for a nice drive.
Unfortunately, his nice car is also an old car, which means that sometimes, it gets into a spot of trouble.
That's just life, you know.
[Raises arms]
Car man has a secret trick to fix his overheated engine though: water, the magic elixir of life.
Now he's back on the road.
Home is but a brief ride away.
2. The Dude Who Is a White Collar Factory Man
At first, this Dude seems like just a regular Dude.
Then it becomes clear that he is Going Places. UP places.
To his private, glassed-in office, more specifically.
He's done with a nice day of work, which means he gets to attend to the :-) texts he gets from his ladyfriend.
All work and no play makes Factory Dude a dull boy.
1. A Dude Who Can Make Fire
Once upon a time, man could not make fire.
We're not talking about back in the day; no, this is recently. You see, man's trusty man-made lighter was failing him. He found he had to rely on his own hands.
[Pauses]
[Blows on fire to get it burning]
[Blows some more]
[Pauses]
He looks off into the distance and sees his fire glowing, plus the shadow of his love in a tent. Is there going to be a fire in the tent tonight?
Yes.
Images via Viagra