RaeLynn, the artist behind "God Made Girls" (and a former The Voice contestant) is back, and her latest song is full of just as many boring assumptions about the differences between men and women as the last. It's aptly titled "For A Boy" (subtitle "You Sure Are Sensitive!" not included).
"For a boy, your heart is pretty see through/For a boy, you sure let your guard down," RaeLynn sings, later tacking on the other rare male qualities she sees in this particular love interest: "For a boy, you're good at sayin' sorry/For a boy, I sure can feel your heart."
"I wrote it about this dinner date I went on, and this guy was super transparent with me and kinda wore his heart on his sleeve," RaeLynn told ETonline back when the single was released in March. "You know, guys always wanna be macho and that kinda thing, so I had this idea of 'for a boy, this guy's pretty transparent and cool.'"

Women are not excluded from this track; RaeLynn notes that in this situation, "For a girl, I'm pretty cool, calm, and collected." The melody itself isn't bad, and though she has a slightly tinny voice, it's nice to hear something different from straight-up belting in country/pop. (It works effectively stripped down too — check out this live performance of the song.) Ignoring the lyrics, "For A Boy" is nice.
G/O Media may get a commission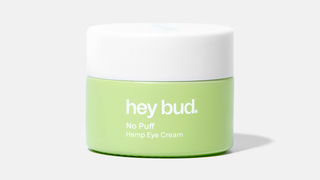 15% off
Hey Bud - No Puff Hemp Eye Cream
I'm sure many of us—men and women included—can relate to the general feeling RaeLynn is expressing here: the excitement of meeting someone with whom you can be honest with who responds in kind. "You don't make me wait/You say what you came to say," she sings. "You're putting your heart in the palm of my hand/I'm trying to act real cool/But inside I'm a lovesick fool."
And perhaps at a one-off, we could let this one slide, but coupled with "God Made Girls," which included lyrics like, "Somebody's gotta be the one to cry/Somebody's gotta let him drive, give him a reason/To hold that door/so God made girls"...well, this whole gosh golly gee isn't life so simple when we just think about men as men and women as women is at odds with RaeLynn's other tracks, like "Kissin' Frogs," where she celebrates a fun summer spent not needing a man. Despite the supposed push for powerful women and interesting stories in country, "For A Boy" has a video, and a song like "Better Do It," where RaeLynn snarls at her paramour to get his shit together, does not.
The video for "For A Boy" is darker than the song: RaeLynn is seen frolicking around in soft lighting with her perfect boy, before she catching him canoodling with another woman. He then returns to their bizarrely barren artists den and starts breaking stuff, as RaeLynn drives away, hair flowing in the wind. Men, amirite? You can't leave them alone for a minute!
---
Contact the author at dries@jezebel.com.