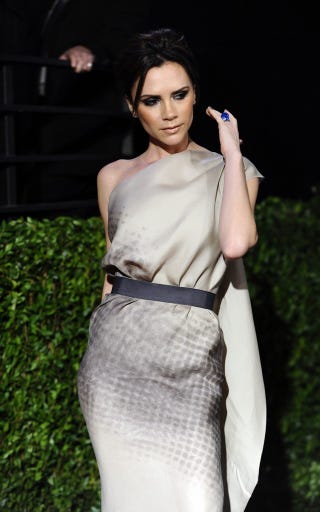 When you're growing another human being inside of your body, it's important to remember to stay slender, because no one likes a chubby girl, Lardy.
Thank goodness for Victoria Beckham, Rachel Zoe, and the always-facty and progressive Daily Mail for bringing women their daily dose of Reasons To Feel Bad About Themselves.
Reports the rag,
Rachel has been popping round to 36-year-old Victoria's Beverly Hills home to guide her through her pregnancy, and her advice seems to be paying off: there are few visible signs that a baby Beckham is on the way.
Whether or not this is true, the fact that these words are written down in the order they're written down makes me want to go back in time and decide, as a child, that I was just not going to try. Seriously? The last thing a woman should be worried about during pregnancy is looking like she's not pregnant. The first thing she should worry about is learning martial arts so that she can karate people who touch her stomach without permission.
Want to know Victoria Beckham's super slim pregnancy secret? The secret is that Victoria Beckham's world view is fucked up. There! It's out!
Victoria Beckham's Super-Slim Pregnancy Secret [Daily Mail]