"Sometimes, you just have to say, 'Fuck you,'" said Hounddog director Deborah Kampmeier. It was at a recent all-star panel at the Athena Film Festival in New York (moderated by our own Dodai), on the Bechdel Test.
I had raised my hand and asked about how these women in Hollywood — including Kampmeier, writer-producer Margaret Nagle, and screenwriter Delia Ephron — how they made sure their projects came out of the Hollywood sausage-making machine relatively intact. Kampmeier's "Fuck you" applied to the money guys who offered to fund her film if she took out the rape scene (which infamously featured Dakota Fanning.) She refused.
Nagle said she walked a line. When she pushed back at a Lifetime executive who said a character wouldn't possible be able to quote Shakespeare (Romeo and Juliet!) she got a call saying the network found her "difficult." For a followup to her Emmy-winning Roosevelt biopic Warm Springs on HBO, which would focus on Eleanor Roosevelt, she got a note from above saying Eleanor seemed like kind of a bitch.
As important as it is for women to fight these daily battles inside the Hollywood machine, there are other ways. In the post-panel linger, we met Elisa Kreisinger, whose Pop Culture Pirate project required no permission from Hollywood executives to queer up Sex And The City, as she did in these videos.
The exhaustive remixes of six seasons of Sex And The City re-imagine the "girls" as Kreisinger wished to see them. Reading online critiques of pop culture, Kreisinger told me later, "We were all so eloquent and specific about what we wanted to see from pop-culture: ie, no more feminist-lite, low-calorie liberation tales of girl-gets-the guy 2.0. So, instead of talking and blogging about what more meaningful stories would look like, I decided to make them myself through remixing.
G/O Media may get a commission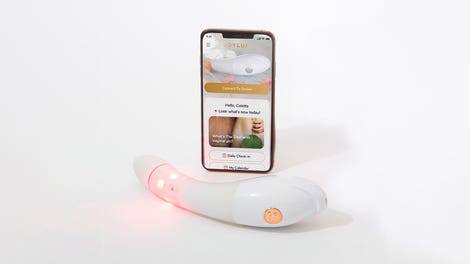 $50 Off
Joylux vFit Gold Device
"SATC was a series that was just as problematic as it was subversive: four smart, funny female characters used the language of feminism but rarely acted on it." For Kreisinger, remixing the show meant taking the character's obsessions over relationships and status and sex, and making them queer. She says, "I don't think the QueerCarrie Project speaks for everyone's issues with the series, but that's the great thing about remix: if you don't like my version of a feminist narrative you can remix your own."
"In the end," she says, "the only way for us to see better stories about women is to make these stories ourselves. My larger goal is to actually write complex female characters, but for the time and budget being, I'm sticking to remix to re-imagine female representation in Hollywood with the hopes of encouraging other women to do the same through some easy tutorials."
Next up: Mad Men. And, further down the line, we hope, her own chance to say "Fuck you." For now, watch her three "seasons" of Queer Carrie.
Pop Culture Pirate [Elisa Kreisinger]