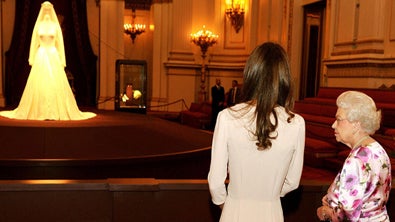 Kate Middleton and Queen Elizabeth decided to take a leisurely tour of a new Buckingham Palace exhibit dedicated to the Royal Wedding gown.
Everything was moving along quite nicely...and then shit got real because the Queen RAISED HER VOICE:
"As the pair chatted, the pitch of the Queen's voice raised and she said 'horrible' and then 'horrid'."

According to NYMag.com, the queen added, "it's made to look very creepy.''
The problem? The mannequin is missing its head.

Middleton thinks it gives off a "3-D Effect."
The dress may sit on a decapitated mannequin, but at least it's not a wire hanger.
Kate Middleton And The (Horrified) Queen Spend The Afternoon Staring At 'Creepy' Royal Wedding Gown Exhibit [BusinessInsider]