Before her last show at the Barclay's Center, Yoncy gave her driver the day off and biked from the modest Tribeca home she shares with mild-mannered car insurance salesman Jay Z all the way across the Brooklyn Bridge to the venue. She also Instagrammed it because otherwise it didn't happen:
It is pretty adorable when Beyoncé pretends she's one of us, like that time she stopped to smell bodega flowers on a Chelsea evening when bodega flowers clearly have no smell. Points for trying! [NYDN]
Oh, and here is Jay Z's "other woman" speaking out about her "relationship" with him, which consists of "sending him an email about [her] music and not getting a response." Sounds real torrid. [Radar Online]
---
Kristen Bell will be marrying Dax Sheperd without the bells and whistles and TheKnot.com gift registries that make them wind up with seventeen Kate Spade picture frames, one folding chair from their broke friend and one flesh-colored dildo from a jokester dude at work:
"We're not having a wedding. It's not a desire of either of ours to have any sort of day of celebration for us. I feel like we get enough attention in our daily lives and we just want something sort of private that involves pen and paper. It could be any day. Honestly, I could go home and we could do it today, there's no forethought really going into it."
G/O Media may get a commission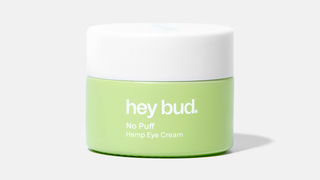 15% off
Hey Bud - No Puff Hemp Eye Cream
But hopefully a sloth will be there, or else it is invalid. [E!]
---
Oprah, who has previously coached Lee Daniels on not throwing the N-word around, finally weighs in on Paula Deengate: "In the very first days I tried to reach her and then I decided to stay out of it as I saw it blowing up. In time she will be fine. For me, it all just felt kind of sad." She's also kind of sick of discussing it, for one pretty obvious reason: "She is not the first white lady to use the N-word! Good lord!" [Us Weekly]
---
In which Kelly Osbourne shares her colorful history with Cosmo UK: "I've been to rehab seven times and to two mental institutions. My mum even had me put in a padded cell once to scare me, but like a brat I just sat it out until she said, 'Well, that's not going to work.'" [People; image via Cosmo UK]
Lisa and Jack Osbourne are expecting their second baby. [People]
---
Someone stole James Gandolfini's Rolex after he died because the world is fucked. [TMZ]

Lindsay Lohan went out for a non-drunk family dinner. Dina wasn't there. I am legitimately proud of LiLo, by the way. [TMZ]

Chris Brown might quit music. [HuffPo]

Smalls from The Sandlot got arrested for head-butting a cop. Insert obvious "you're killing us" joke, bow, derp off into the horizon, etc. [TMZ]

Donald Glover is developing a show for FX called Atlanta, about the music biz in his native city. [Vulture]

Sly Stallone fucking hates Bruce Willis for some reason. [Us Weekly]

Miley Cyrus' new album will be called BANGERZ. So. [Gossip Cop]

At one point Simon Cowell boasted that Lauren Silverman should have her own reality show because "she's much more interesting than those tacky Housewives." [Radar Online]

A Drake song from his September album has leaked, go listen. Drake wants to have sexy sex with you. Yes — YOU. [Rolling Stone]

Adrienne Bailon (still have no idea why she's famous, won't Google because I want some aspects of myself to stay pure and ignorant) blasted Britney Spears. [Gossip Cop]

"Call me crazy, but I love him," Sarah Jessica Parker says about Matthew Broderick. You're crazy. [People]

Nick Cannon is the best husband ever. He guided Mariah Carey, who was in a studded arm sling (!) at The Butler premiere [via Page Six]:

Mariah had bodyguards, but looked worried. Nick was gentle and put his arm around her and said, 'Baby, do you want to go in?' She responded, 'Where's a drink? It's so crowded. I think I need a drink,' " before entering the area one guest at the DeLeon-sponsored bash dubbed "The Diva Section."

Leonardo DiCaprio, noted actor by day and douche cliché by night, made out with a 21-year-old model in Spain. [Us Weekly]

More news about the Bieber Southampton Brawl emerges as the cops question Lil' Beebs: "He was acting like he was in Die Hard." [Page Six]

Um, here is a two-second clip of the newly agoraphobic Kim Kardashian sticking out her tongue. [E!]

Tongue-twister: Talking abs Kellan Lutz got bum-rushed by a pack of female loups-garous at Lollapalooza. [People]

Here is a sonogram of the creature growing inside Danielle Jonas. Feel free to give it a reality show/record deal/the chance to design a line of iPhone 5 cases. [Us Weekly]
Images via AP.