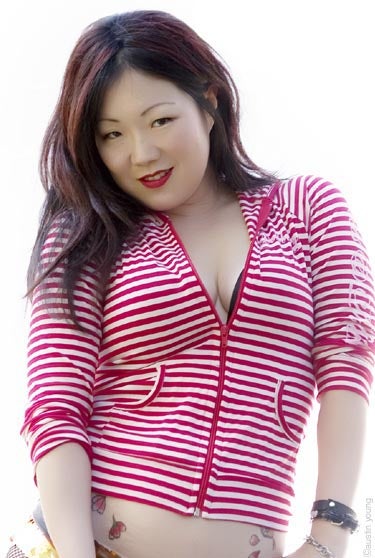 For the second installment of our Q&A series, Sweet Talk, I chatted with Margaret Cho, and you guys, I have to be honest. It was really hard for me to interview her because I am such a pathetic fan girl. I have loved her since All-American Girl premiered in 1994, and I still remember being 12 or 13 and watching the first HBO special that Comedy Central re-ran all the time. Margaret was wearing this black vinyl cat suit, and being her usually hilarious, outspoken self, and I was smitten, even though I only understood half the jokes. Plus, the show was educational: I learned that lesbians love whale watching! Which is all to say: I was not even remotely objective when conducting this interview, and I sort of rambled and stuttered and was basically lame. Please do not let this prevent you from enjoying Margaret's thoughtful answers about her vagina, her puppies, her parents, and her new VH1 reality show, The Cho Show, which premieres on August 21.


You're on the road now doing stand-up, and your reality show is about to premiere, but you've done scripted shows in the past. I know you've discussed the lack of non-stereotypical roles for Asians in your act before, and I was wondering if it's gotten any better since you started out in show biz. There's just nothing that's out there. The only roles that are out there if you're a woman of color are based on ethnicity. If a role is for Asian women in particular, it's going to be for an acupuncturist. Of course, there are Asian acupuncturists in life that are real women, but it's still a stereotype. I feel bad for Asian actors who want to work, because there are only those stories out there for us. The real story behind the movie 21 is about Asian American kids, but they used white kids for those main roles and Asians in the supporting roles. I don't know why. The problem isn't even out-and-out stereotyping at this point, it's non-inclusion. That's the way racism presents itself nowadays, as if non-inclusion is better. I think it's actually worse, because then you don't see those people at all.
Speaking of inclusion, you seem really focused on being a good role model for your fans so that they don't feel alienated.
I always want people to feel beautiful. I try to be super positive about my body, and super positive about not saying, 'I feel fat and I feel ugly.' Of course I have moments of weakness, and sometimes I have interviews on those days. ! I don't want be self-deprecating in the way that comes too naturally for women. I want to be a woman who is really proud of her physical being, I am proud to be forty, am proud to be in this body. People don't get to see a lot of real women on TV who haven't had plastic surgery, who haven't had botox, and I'm totally normal. In my new TV show, I try to be naked a lot because I think it's important for viewers to see a real 40 woman looks like, but also because how things were for me the last time I had a show. When I first had a screen test [for her 90s sit com All-American Girl], I wore a midriff shirt and my stomach was showing, and one of the executives said, don't ever, ever do that again.
I also hear you're totally awesome about using your body for experiments on the show. I definitely read your blog about getting the G-shot. How was it?
I really was disappointed in the G-shot! I have some weird value judgment on how I reach orgasm and I always felt inadequate that I couldn't have one through intercourse. Why isn't it enough that I can orgasm? Why is it more valuable to orgasm a certain way? What a great gift! Unfortunately, the G-shot didn't allow me to come from sex. It made it not possible for me to have sex for many months. We're all built differently and female sexuality is so unique, and the specialness of who we are, you can't take that into account when you create a procedure like that, though I think that it does work. It actually reinforced my realization that I'm not going to come that way. I had this ex-lover who was like, 'I wish you could come from me and not your vibrator.' And I was like why? Are you emasculated by my vibrator? I'm really into sex toys and I can't understand why people feel like it's not a part of the sex process proper. It's bullshit. I hate that.
Another big part of the show (besides getting a shot of collagen in your G-spot, obvs) are your parents, whom we love.
They really fit into the show and I thought it would be great to have them. It seemed like the right kind of thing to do and I was excited to have them on, along with my assorted friends. [I wanted to show everyone because] we are definitely a queer family — because that's how queer family comes together, we create our own families.
Your puppies also have a big role on the show! And I read on your blog that you are a fan of the Daily Puppy, which we are also so obsessed with. Yes! I have three dogs, small, medium and large, all mixes. My medium is an Australian Shepherd Mix and my big one is a black German Shepherd mix. Sometimes I will wait until midnight and go on the Daily Puppy so that I can see the dogs change over to the next day's puppy, I'm so into it. , I'll go deep inside it. I'll get deep in there. I'll be lost all day. It's really funny sometimes. Once I remember I was going down the comments, and there was this guy on the boards called "puppy hater" and he kept going on about how the readers are fat old women who have nothing to do, and we're so fat that we have nothing to love. And the readers just went fucking crazy on him!
People can be really mean on the internet! Even to puppies!If I had a daughter, I would have a real hard time letting her see any of the stuff online and the way they talk about women and women's bodies. It's so cruel and sickening.
Donut Pussy [Margaret Cho Official Website]
Earlier: This Is Not Chick Lit: A Q&A With Writer Janelle Brown