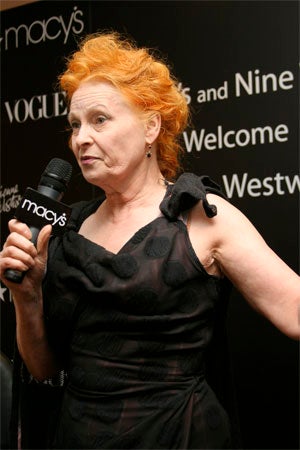 Vivienne Westwood, so-called creator of the "punk" aesthetic, thinks we need to stop shopping.
If you ask me what I think people should be getting next season. I'll tell you what I'd like them to buy - nothing. I'd like people to stop buying and buying and buying.
Yeah, after all, nothing affronts a punk sensibility like old-fashioned consumerism! But why does Dame Vivienne think we need to curb our horrific spending habits?
There's something really awful about the way people dress now. Everyone looks the same. Everyone wants to look neutral... Why do people think that if you don't dress up, others will appreciate your beauty more - that style will somehow emanate from you? It's rubbish. If you dress up it helps your personality to emerge - if you choose well.
Let us guess: By "choose well" Ms. Westwood means "choose me". 'People Must Stop Buying And Buying' [Telegraph]