It's hard for me to hate on stunt wedding proposals, even if they take place during shitty B-grade movies and are touted by local media outlets as "epic."
Look. The story of how Tom Moore got a movie theater to go along with his proposal to Amanda Rogers during a film screening is actually kind of sweet. Good for them falling madly in love and good for him being so bowled over by her that he wanted to make his declaration of love public. I wish them nothing but the best. Via Pittsburgh CBS/KDKA, which called this an "epic" proposal (Later that same day, they called President Barack Obama's statement on national healthcare "totally fucking righteous" and referred to the latest unemployment figures as "such a friggin' bummer, man):
KDKA anchor Susan Koeppen's car got hit by a woman driving in reverse. The damage wasn't bad, but it was enough to send her to the repair shop. At the shop, she met a very nice young man named Tom Moore. He checked the damage and gave her an estimate.
During their short encounter, Tom mentioned that he was new to town, he had followed his girlfriend to Pittsburgh, and he was hoping to pop the question soon.

Susan asked how he planned to do it. He filled her in on his big movie theater idea, but he added, "It's never going to happen that way because I'll never get into a theater."
Susan's response was simple, "I'll get you into a theater, just give me a day."
Oh Susan! You're basically like the Lawrence of Arabia of public marriage proposals. Susan, aka Saint Bernadette of the Multiplex, was able to arrange the whole thing with a local Pittsburgh theater. I wonder how many Regal Cinemas turned them down for fear that two minutes of a wedding proposal might detract from 85 hours of trailers and commercials for When the Game Stands Tall?
As he brings her to the theater and they munch on popcorn and drink some wine, his family and her family sneak into the back. The movie, "22 Jump Street," is rolling. Amanda doesn't have a clue.

All of a sudden, the movie stops and sweet romantic music fills the theater. Pictures of Amanda and Tom fill the screen. Cue the tears. Amanda is shocked. Bring up the lights, and Tom gets down on one knee.

The perfect proposal. She says yes. Applause from the moviegoers… a mix of family, friends and strangers.
This all took a month to plan. A MONTH. 30 freaking days to make sure the precious moment in a movie that features Patton Oswalt as a college professor went off perfectly. I'm not here to judge you on your choices in the love arena. Who am I to fall on the floor, rolling around in hysterics at the idea that one of your most sacred and beautiful memories is sandwiched between scenes of Channing Tatum smarmily phoning it in is as a re-invented version of another character once portrayed by an actor who is now relegated to cameo roles in the remake of a TV show he once desperately tried to distant himself from. Oh my god the reality of all that just blew a gasket in the cluster of brain cells in my head.
During the proposal, the audience burst into tears. "Her name is Amanda, and it means worthy of love, so I had to do something that was worthy of her love," said Moore.
G/O Media may get a commission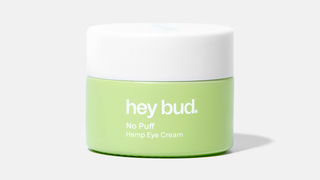 15% off
Hey Bud - No Puff Hemp Eye Cream
Well fuck me and all my shitty, snarky cynicism. Here's to hoping they have a long and happy life together.
Image via Shutterstock.