Sound snippets from last night's Project Runway: Suede loves talking about Suede in the third person. Stella is "urban." Korta is "paranoid." No one likes "team ugly brown fabric." Natalie Portman is "so tiny I could carry her around on my hand." But the best sound bite of all was uttered by Blayne in response to Stella's unapologetic love of leather: "I love you, leatherface." (Clip at left.) Moving on: The challenge, designing a cocktail dress for a model who has picked out her own (green/organic) fabric, sounds simple enough. And yet! The wacky designers came up with some crazy shit. View all of the dresses, after the jump.
Ana Gasteyer Satirizes the Girl Boss in 'American Auto'
Keith's dress was the first out on the runway, and it wasn't terrible, but is that a compliment?
Daniel gets points for making a wearable cocktail dress, but we'll have to deduct points because it's something we've seen before.
G/O Media may get a commission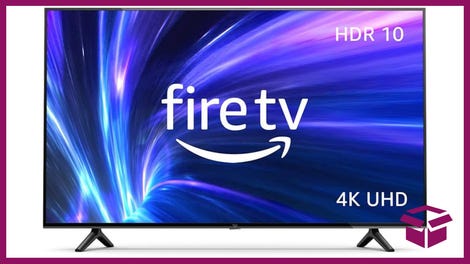 42% Off
Amazon Fire TV 50" 4K Smart TV
Blayne is living in a parallel dimension where it's 1983. Worse things have happened.
The braided halter on Emily's bodice was cute, but then the back was kind of weird. Does it work? Is it pretty? Not sure.
Jerrell made fun of "team ugly brown dress" but glass houses, stones, etc.
Jennifer's little number looked great swinging down the runway.
Joe is the straight dad from Detroit, and this is his design. Makes sense.
Did anyone else not really "get" Kelli's garment?
Loopy Leanne's dress was a loopy mess. She's a crier, in case you hadn't noticed.
Does anyone else find it surprising that Stella's dress was considered one of the "best" on the runway?
Korto's kimono dress in the first challenge was gorgeous; this is fug. That said, the "wings" were very Prada 2009. Not that that makes them acceptable.
Dear Wesley: God Ugly is in the details. That is why you were auf'd.
Terri's dress was actually my favorite.
Kenley's dress receieved high marks from the judges.
Suede won the challenge with this kicky number that looked like cat vomit in the workroom but turned out to be quite sweet.
Project Runway Season 5 [Bravo]