On last night's episode, the designers had two days and $100 to create an outfit for Rebecca Romijn, who was pregnant with twins. Malvin's ensemble was based on the old dilemma: "Which came first, the chicken or the egg?"
Tim Gunn was worried when Malvin described his jodhpurs as "chicken thighs," but he should have been more worried about the "egg" part of Malvin's top, which was not flattering. At all.
Here's the side view:
My boyfriend saw this and made a comment about dumping/placenta, and if you throw in "Ace bandage," that seems fairly accurate. Malvin is the perfect example of a designer who is into design but not fashion that women can wear. Or would want to.
G/O Media may get a commission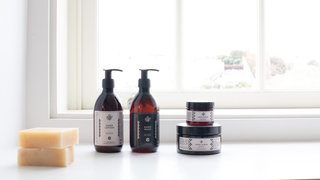 Exfoliate and Hydrate
The Handmade Soap Company
Just a note: Rebecca's belly did not look anything like those pillows the models were wearing.
Mitchell made some giant shorts, which he found simply hilarious. Clothing in big sizes is always knee-slappingly funny. FAT IS SO FUNNY.
Heidi, Nina, Rebecca and guest judge Monique Lhuillier (filling in for Michael Kors) did not find the jumbo shorts amusing. Nina scolded Mitchell, saying his model was "a mess." MItchell's excuse: "I had some difficulties with the shorts." Right, it was so difficult to laugh about them and have your fellow contestants each stand in one leg.
The judges were also not impressed by Malvin's egg/chicken ensemble. "I don't think any pregnant woman wants to be thought of as a chicken," Heidi said, quite rightly. "I don't want to look like an egg," Rebecca agreed. Nina declared the design "bizarre."
Of all the dresses on the runway, I really liked Shirin's, and she was declared the winner.

But! I also really liked what Louise Brooks Black created.

Flirty retro-chic, in a sophisticated color, with lots of well-thought-out details.
Even though Mitchell's FAIL shorts FAILED, he was safe for another week.

But Malvin? His egg was cooked.

Auf Wiedersehen, Malvin! Oh, what's that? You have some last words you'd like to share with us? Okay.
[Sketch and runway images via MyLifetime.com]