A million thank yous to the reader who mailed me the Dianetics & Scientology Holiday catalog! With so much crazytown inside, it's the gift that keeps on giving.
While Scientology has been going through tough times lately — a French court convicted the church of fraud and Oscar-winning filmmaker Paul Haggis resigned publicly — spokesperson Tommy Davis says the church is flourishing: assets and property holdings have doubled over the past five years. Is some of that cash from the catalog sales? Maybe!
Before you open the catalog, there's the cover picture — a snowy scene captured by world-renowned photographer L. Ron Hubbard. Or, as he was called by a former coworker, Enron Hubbard.
G/O Media may get a commission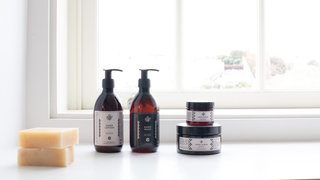 Exfoliate and Hydrate
The Handmade Soap Company
Inside, there's a picture of — and a letter from — Mr. Hubbard. The message reads: "Mankind's salvation lies within our hands. A very Merry Christmas to you all and a bright friendly new year." Has Hubbard been dead since 1986? Yes. But his message, about being a "help" to others, lives on!
Hubbard's hideous curtains also live on. Related: It's so disappointing that L. Ron didn't have the alien ornament from Bronner's. We don't know what Xenu actually looks like, but we doubt he has a goatee, like the BBC depicted him.
What do you give the man who has everything? The leatherbound edition of the 18 "Basics Books." According to the copy, "Each volume is bound in Nigerian goatskin" and "printed on 100% cotton paper." Oh, and: "The Basics was created to fuel the next phase of our planetary crusade." In case you weren't aware.
UPDATE: Curiosity got the best of me and I just called to ask how much the set of 18 leatherbound books costs. The answer?? $2,000.
(Click "full size" to enlarge)
If leatherbound is too fancy for you, just go for a $25 hardback. Or get four lectures, on CD. The description reads: "Containing discoveries heralded as greater than the wheel or fire, Dianetics has remained a bestseller for more than 50 years." Greater than the wheel! Greater than fire! And easily gift-wrapped.
For $85, you can get the book and lectures for Science Of Survival. The copy reads: "Dianetics revealed the previously unknown reactive mind that enslaves Man and the auditing procedures to get rid of it. But that was only Plan A. As Ron deliniated in the closing chapter, Plan B was to embrace further research into life force. And here it is, Science Of Survival, with the discovery of Theta and how it interacts with the physical universe of matter, energy, space and time, MEST." MEST is not to be confused with EST or The Forum, which, like Scientology, was called a cult.
(Click "full size" to enlarge)
"76 million years of glare fights, implants, between lives, exploding facsimiles, entities, blanketings, volcanoes and theta traps… revealed." Can someone translate? Oh wait — it says "not for the fainthearted." And: "Here is the unvarnished truth of the past and how beings came to be 'human.'" That cro mag in the illustration is munching on the thigh of an infidel!
(Click "full size" to enlarge)
Everything you need to know about theta! For the low, low price of $150. Learn about the technology that bridges 8-80 to 8-8008. And discover the "shift in orientation in life from MEST to Theta." Tom Cruise knows this stuff backwards and forwards.
(Click "full size" to enlarge)
Raise your hand if you think the Handbook For Preclears artwork is creepy!
Actually, maybe some people you know posed for this cover: John Travolta, Kirstie Alley, Lisa Marie Presley, Nancy Cartwright, Jason Lee, Danny Masterson? Juliette Lewis is already clear.
(Click "full size" to enlarge)
Are you taking notes? "Chaos=MEST. Order= Life." And what do eighteen-foot tomato plants and cucumbers the size of watermelons have to do with anything? For $110 you can find out! Hint: "It's also the answer to broad scale clearing… of entire nations."
(Click "full size" to enlarge)
What makes the Clearsound™ "listening system" so special? As in: Why does it cost $400? It appears to be a Sony portable CD player, headphones and a mini-amp. The player pictured is about $55. That must be one fancy carrying case.
Don't you enjoy how the "Ultimate Collection" sits nestled in the snowy, rocky mountains? Either Legolas is going to come scampering by, or someone is going to start singing "Edelweiss."
(Click "full size" to enlarge)
Ron's book about marriage sounds super romantic.
(Click "full size" to enlarge)
Did you know Hubbard was so prolific? There are 49 "classic" lectures listed, all with ideas about "solutions to the dangerous environment"; "datum that can transform apathy to enthusiasm" and the mystery of the human soul.
You are not serious about Scientology unless you have your own E-Meter. Not just any E-Meter, but the "Hubbard Mark Super VII Quantum E-Meter." A bargain at $4,650 — or $5,500 for the Planetary Dissemination Edition.
See, the meters come in colors: FSO red; teal; black; midnight blue; white… and Planetary Dissemination Blue.
(Click "full size" to enlarge)
Last, but not least: Jewelry! You know you want a large gold Clear Bracelet with diamonds ($3,200), or a gold OT (operating Thetan) ring ($350). Oh — don't get your hopes up:
The Clear Bracelet is only for Clears.
Defections, Court Fights Test Scientology [AP]
Earlier:
The French Are Not Buying This Scientology Thing
11 New Weird Christmas Ornaments From Bronner's
Related: All previous catalog posts