Last week, news of a syphilis outbreak in the adult film industry made headlines. Soon after, porn star Mr. Marcus left a voicemail for porn industry blogger Mike South, in which he admitted that he had contracted the infection and kept his diagnosis a secret. Mr. Marcus has now granted an interview with Richard Abowitz of The Daily Beast, and admitted that he altered the test results performers customarily bring to shoots to show they're clean of certain STDs.
Mr. Marcus tells Abowitz he got his positive test results in July:
The doctor was like, get a shot; it's curable; it's not as bad as it sounds. I went and got the shot, and I was told to wait seven to 10 days before you do anything sexual.
Mr. Marcus says he has no idea how he got the infection, but:
…There was a girl who I was hanging out with at the time I got diagnosed, and I told her she needed to go get checked. Maybe that distracted me from thinking about my past. I am not a performer who dwells on my scenes. It didn't dawn on me until all this hell broke loose. [Porn star] Kristina Rose pointed it out. She was like, "Once you found out, if you had just contacted everyone you worked with, you would have been looked at as a good example and probably be commended." But instead I did the opposite. I made it very personal, and I kept it to myself, because it was syphilis and I didn't know much about it. I was just embarrassed.
Perhaps it seems strange that Mr. Marcus claims he "didn't know much about" syphilis. But he'd been in the industry for 18 years, got tested regularly, and had never had an STD. And, as he tells Abowitz, he went to see a doctor when: "What I noticed is that I was getting a rash, which turned out to be stage two. So, stage one came and went, and I was only recognizing stage two."
Mr. Marcus did at least three scenes while infected (but after being given an injection of antibiotics). He explained to AVN:
My personal doctor doesn't know what I do for a living… So his thing was just don't have any sex for 7-10 days. Once I did that shot I felt pretty confident. Every doctor I talked to up to that point said, 'You get the shot. That's it.'
G/O Media may get a commission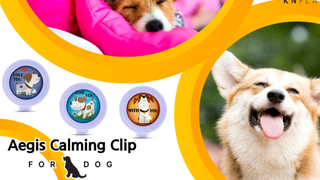 20% off
Aegis Calming Clip for Dogs
Mr. Marcus did hide his results from a producer who asked to see a test: "I showed that my HIV was clear, my gonorrhea and chlamydia were fine. You didn't see the syphilis part of the test because of the way I showed it."
AVN goes on to clarify:
According to what he was told by medical professionals, Marcus believed syphilis can only be spread by direct contact through open sores or wounds on the body, which he claims to not have had, and combined with the injection he received and the subsequent waiting period, felt comfortable that he wasn't putting his co-workers at risk for infection.
He has since checked in with those he worked with, and claims: "No one has come up positive for syphilis. There is no one I've been with who had it." Still, Europe — specifically Budapest, Prague, and St. Petersburg — is dealing with a major syphilis outbreak, and it seems to have started months before Mr. Marcus was infected. Performer and director Rocco Siffredi tells XBiz, an industry news source, there may be 89 to 100 performers in Europe currently infected with syphilis. "We don't really know where this came from, but I'm pretty sure it came from Russia before it came to Budapest in July… I heard of some people with syphilis in May in St. Petersburg. Twenty-seven years in this business and I've never seen such a big mess in porn."
Meanwhile, Mr. Marcus is dealing with an angry industry and tons of negativity: " I've been hearing I should retire, that I should go to hell, and that I should go to jail," he says to Abrowiz. And recently, the performer tweeted:
Mr. Marcus on Why He Kept Quiet About Syphilis That Sparked Porn-Industry Scare [Daily Beast]
Mr. Marcus Comes Clean on Syphilis Incident [AVN]
Porn Star Admits To Altering STD Test Results So He Can Perform [The Life Files]
Porn actor Mr. Marcus covered up an STD while continuing to make X-rated movies [NYDN]
Rocco Siffredi: '89 to 100' Syphilis-Positive Porn Performers in Europe [XBiz]
Earlier: Syphilis Scare Forces Porn Industry to, uh, Grind to a Halt
Image via Facebook.