German porn star Carolin Berger was only 23 when she died during a breast augmentation operation earlier this month. Based on news reports, she sought out so many surgeries to stay on the media's radar screen. Doesn't seem worth it.
CBS reports that the docs who performed the surgery are being charged with negligent manslaughter, while also asserting that "the cause of death is unclear," and that no autopsy has been performed yet. Not entirely sure what's going on there, but other reports are saying that the clinic's only being investigated for now.
A former contestant on the German version of Big Brother, Berger had been hoping that her sixth operation would increase her bust from a 34F to a 34G. But complications caused by the surgery led to Berger being put into an artificial coma. It's believed that she had two cardiac arrests before her death.
Berger isn't the first woman to risk her life for bigger boobs: Sheyla Hershey, who successfully aimed to have the world's largest breasts, contracted a staph infection during her surgery spree and ended up having to have the implants removed. Luckily, Hershey survived her health ordeal, but now she says she wants her old breasts back. "I'm not as happy as I used to be, but I'm trying to accept myself for who I am, not just behind two big breast implants," she told Fox News.
G/O Media may get a commission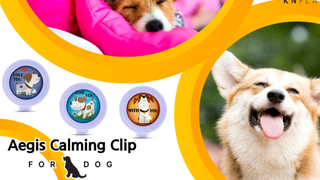 20% off
Aegis Calming Clip for Dogs
While every medical procedure carries a certain amount of risk, Berger's death and Hershey's near death seem totally senseless. Maybe their bigger busts made them feel more comfortable in their bodies—it's not our place to judge. But at what point do you stop? Texas and other states enforce laws to limit the amount of silicone people inject into their bodies—but silicon-centric laws don't regulate newer types of surgery that involve liposuction and other procedures.
At any rate, the British company Bravissimo is going to start manufacturing L cup bras "to cater for women's ever enlarging breast size." If you've ever wanted to compete in the race for the biggest boobs, now you'll have some extra support.