Buck Angel used to be a woman, an extremely unhappy woman stuck in a body that felt completely unfamiliar. That woman tried drugs, tried lesbianism, finally tried therapy and realized she was a man. So she became one. Buck Angel then also became a porn star because even though he was a man, he retained the one thing that many people view as that which makes us women — a pussy. But as far as Buck is concerned, being a woman or being a man isn't about your genitals, it's about who you are — and Buck is, as far as he's concerned, a straight man with a pussy. And it's a pussy he's not at all shy about showing. I guess we can all imagine how well that goes over in some parts.
Ana Gasteyer Satirizes the Girl Boss in 'American Auto'
Buck's taken shit from lesbians, from gay men, from Howard Stern and his crew, from pretty much everybody because he just won't conform. He won't get the add-on that would make him look "normal" as a man but that would leave him potentially without the ability to ever orgasm. And he deals with the question of the status of his genitals all the time, even as he announces to the world every day what they are, calling himself The Man With A Pussy. (If you're really, really curious, if you just have to know, 20 years of testosterone therapy has its side effects and an extremely Not Safe For Work Or Your Mother picture can be found here). He's living, breathing, fucking evidence of the fact that, even in the gay community and the sex-positive community, even when people are marching and fighting for the right to keep from being discriminated against for what they do with their genitals, everyone wants to know exactly what his look like. Being dumped by all his lesbian friends when he decided to be a man hurt, he says:

Fuck communities then, Buck thought, if all they do is uphold the tenets of a rigid, unchanging identity, and then spit you out when you deviate. The dykes won't stick with a trans-man, and the trans-men get offended by a guy who has the balls to trumpet the virtues of his vagina. Why go through the effort of establishing nomenclature for every variation of queer identity if they're going to be used as tools of division? If only your average straight-laced queer-baiter knew how closed-minded some sects of these hated deviants can be.
Everyone has prejudices, even people against whom too many people hold prejudices. But Buck forces us to confront not only issues of prejudice but of identity. Am I a woman because I have a vagina and breasts and a uterus and ovaries? Is Buck not a man because he is only minus one of those things? Biologically, he and I have the same chromosomes, but the state agrees to recognize him as a man and some people insist that he must still be a woman. My sex is female, but my gender is a more complex question, and a more complex answer because gender is an identity that doesn't reside in my nether regions. I'm a woman because everything in the mass of cells above my eyes knows that I'm a woman, and Buck's a man because the same mass of cells tells him he is. If he can get us all to think of gender as opposed to sex, to think about our chosen and established identities and those of others rather than which bits we all have and how we use them, and if he can do it by sticking a dildo in his big man pussy, then Buck Angel can be my feminist hero.
A Man Without a Cock or Country [BME]
Buck Angel, A Man With a Pussy: LGB Without the T [Village Voice]
G/O Media may get a commission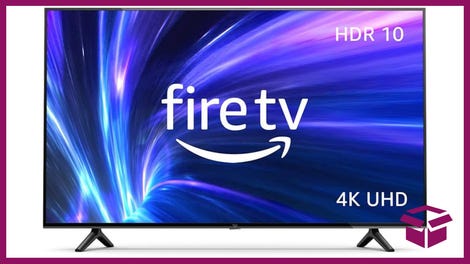 42% Off
Amazon Fire TV 50" 4K Smart TV
Image via of Buck Angel Entertainment