"Every minute, almost two million people to log on to look at porn - with 70% of that traffic taking place during the 9-5 workday." Current TV takes a look at how pornography drives technical innovation.
The Vanguard presentation centers a lot of the documentary around Kink.com, a successful niche operation based in California. The CEO, Peter Acworth, read a news item about the profits involved in peddling porn and left his PhD program to start the company. Twelve years later, the company is thriving, thanks to Acworth's tech savvy. Kink.com was one of the original sites to pilot affiliate marketing programs and has been at the forefront of our changing technological lives ever since.
Ana Gasteyer Satirizes the Girl Boss in 'American Auto'
In another segment of the documentary, Regina Lynn, author of The Sexual Revolution 2.0, provided some insights as to the evolution of sex and technology, tracing it back to the telegraph and the printing press. In general, once we invent something, its only a matter of time before we are trying to enhance our sex lives with it. Even chainsaws aren't immune:

G/O Media may get a commission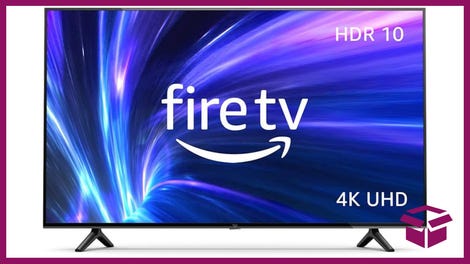 42% Off
Amazon Fire TV 50" 4K Smart TV


Interestingly, the porn industry is in the same boat as the music industry - the onset of technology has not only created a quicker path for pirates (and made many of us content bandits) but also changed the perception of value. Current TV interviewed various staff members at Wicked Pictures, one of the last plot-driven porn companies, about how their work has been impacted by technology. While there's always been some form of bootlegging, the internet has been able to take what was once a localized network and deliver pirated content to the world. And the industry is feeling the pinch - DVD sales are estimated to be down as much as fifty percent.
Pornographers seem concerned with educating consumers about the economic consequences to downloading free porn, but I'm not sure that will work as well as it assumes that the consumer, regardless of circumstances, will always make the ethical choice when faced with the glut of free content available. In addition, the documentary doesn't explore the other reasons why sales may be slumping - like the recession (which is eating up discretionary income that would go to the companies) or perhaps even the decline of retailers like Tower Records, which offered pornography in an easily accessible venue. In addition, the falling price of technology allows for anyone to become an amateur pornographer (which is explored in the documentary), which means that the market is over saturated will all kinds of free content - the idea of paying for graphic material is starting to seem almost quaint.
As a counter-piracy measure, Wicked pays full time employees to locate poached content and to send cease and desist letters. However, this is hardly effective - even the employees admit that even if they succeed in getting the content removed for one day, it will reappear a few days later. (Someone from this industry needs to talk to Prince. The Purple One hasn't fully scrubbed the internet of his content, but it's the closest I've seen to success.)
A better tactic toward stemming piracy appears toward the end of the film, as industry star Jessica Drake discusses how building relationships with her fan base gives them more of an investment in her personal success. Also, the advent of newer delivery methods like iPorn does appear to be a game changer - the industry is moving toward making porn a full sensory experience through live events, 3-D videos, and content delivery through channels like the iPhone. However, I'm not so sure if the fleshlight 2.0 will catch on:


Ultimately, the brief documentary was interesting, but not satisfying. For technology heads, there wasn't enough discussion of what types of technology porn was ushering in. Quick mentions of HD streaming and affiliate marketing aren't enough to be a prominent part of the story, which focuses on what is currently on the market. Current also appears to be going for maximum sex appeal, trading off the naughty cache of talking to porn stars and industry people in their element. However, HBO consistently does this better with shows like Real Sex and Pornucopia, which leaves the Current TV version too sanitized to be truly salacious.
Porn 2.0 [Current TV]
The Sexual Revolution 2.0
Pornucopia [Wikipedia]