When Britney's "Hold It Against Me" premiered last week, it was hard not to miss all the product placement, including the promotion of Britney's fragrance Radiance.
There's a long tradition of product placement in music videos and such placement often helps offset video expenses. The products promoted in videos sometimes signal a special partnership between the artist and a company (think Lady Gaga's nod to Polaroid in her "Telephone" video).
But increasingly, products promoted in videos are created by the artists themselves, taking advantage of an obvious opportunity to promote their own diverse personal business brands, which often include a fragrance collection. Notable singers-turned-perfumers include Katy Perry, Jennifer Lopez, Faith Hill, Jessica Simpson, Shakira, Celine Dion, and Mary J. Blige (and Rihanna and Lady Gaga are due to join the mix soon).
Pop stars like Fergie, Beyonce, and Gwen Stefani have chosen to sing in their fragrance commercials. Others, like Britney, turn their music videos themselves into commercial opportunities.
What can we learn from all of this musical spritzing and dabbing? Let's take a look.
G/O Media may get a commission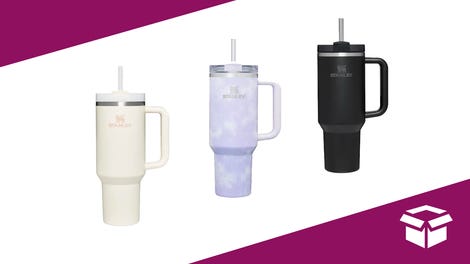 Up to 45% off
Stanley Cup Sale
—
Christina Aguilera, "Not Myself Tonight"
Christina uses the spritzing of her self-titled fragrance to get ready for her moment of seduction. It's all about the understated sexiness in this video. She starts at the neck and we're pretty sure she ends it with a quickie coochie spritz. Judging by what happens next, it seems to have worked.
---
Hilary Duff, "With Love"
How to smell pretty on the run? Just take the big glass bottle of "With Love…Hilary Duff" out of the pocket of your trench coat and spritz your neck area three to four times. As you walk away, feel free to graze your neck and wave at the man following you. (This video actually doubled as the official commercial for the fragrance back when it came out in 2007. Two birds, one highly fragrant stone.)
---
Mariah Carey, "Angels Cry" (Featuring Ne-Yo)
Mariah's not stooping to the level of spritzing EDT in this video-she's a high-end perfume kind of gal, which mean she applies perfume with an applicator. Perfume can be a fun group activity too-Mariah dabs it on her friend who leans in and lets Ne-Yo enjoy a whiff. As Mariah showed Ellen and HSN, she definitely has a method to her fragrance application madness.
---
Avril Lavigne, "What The Hell"
Even the New York Times noted this weekend that Avril's video "doubles as an advertisement for her perfume" (and a double advertisement at that — keep watching the video and you'll see a second placement at about :48) But that's not the point! The point is that she teaches us that you can use one of her fragrances before ambivalently embracing your lover and seconds later you can use another one to celebrate locking him out.
---
The Queen of Fragrance Cameos, however, is most definitely Britney Spears. But beware - her spritzing strategies vary from video to video. Trying to perform them all at once could prove hazardous.
"3"
In the video for "3," we begin by learning that all it takes is three quick spritzes of Circus (twice) and you'll be ready to writhe on a bar too.
---
"Circus Fantasy"
You'll need ten spritzes of Circus Fantasy to dance with two massive lions at the circus like Britney.
---
"Hold It Against Me"
And to do whatever Britney was doing in "Hold It Against Me," (hawking products?) you just need one spritz of Radiance.