If it's Wednesday, it must be Midweek Madness, your official guide to the new issues of the weekly tabloids. This week, Owen Wilson is paranoid; Brad Pitt and Jennifer Anistion did not, repeat did not meet face to face; Angelina's addicted to diet pills; and celebs have cellulite. After the jump — with the help of marvelous Intern Maria — we sift through the murky waters of the mags in search of gossip gold.
Us

Cover story: 'The Secret That Tore Them Apart' (pages 72-78). Owen Wilson attempted suicide because of drugs and Kate Hudson. Seeing Kate with Dax Shepard made him happy that she'd found someone but made him "hate himself" because he couldn't make her happy. As for the drugs, his rep denies that he has ever used heroin or cocaine. But a source says that Owen gets "really strange on drugs - -wacky and aggressive sexually." There are some cute childhood pictures of the Wilson brothers, by the way.

'Would You Do This In Heels?' (Page 42.) Katie Holmes goes shopping with Suri, squats on a dock and plays in the grass — all while wearing 4-inch heels. Also, Suri is wearing a Burberry dress while playing on the grass — those stains are going to ruin her designer duds!

'Mom: I Need A Haircut' (page 44). Us polled New Yorkers, asking if the following long-haired boys need to get their locks chopped: Kate's Hudson son, Ryder Robinson; Cindy Crawford's son Presley; Elle MacPherson's son Aurelius. The answer, for each, was an overwhelming YES.

'Jessica Simpson: Jealous of John & Cam' (page 65). Jessica Simpson is not happy John Mayer is dating Cameron Diaz. "She had her mouth open a mile wide when she found out," says a source. "She is so not over him." Ouch.

'Jessica and Cash: Their Road to Reunion' (page 68). Jessica Alba and Cash Warren might be back together, if you give a crap.

'Bridget And Tom: A Bitter Celebration' (pages 84-85.) Bridget Moynahan gave birth to Tom Brady's baby — not that he's been helping out. It is so ugly, you guys. She put the nursery together herself, says a source. Another source says Gisele doesn't like Bridget calling so much. And another source says Bridget doesn't want anything to do with Tom and just wants to be a single mom. Another source says once Tom saw the baby he started crying. It's a big ol' mess!
Grade: C+
Star

'Who's Hot Who's Not: Beach Bodies 2007' (page 56-67). It's clear that someone at Star took the week off and made the interns throw together an 11 page story of celebs in swimsuits. The first spread is Beach Babes: Jennifer Aniston (in a suit we personally think is dangerously tiny), Carmen Electra, Beyoncé, etc. The next spread is Hunks In Trunks: Barak Obama (?!?!), Mario Lopez, Johnny Depp in a sarong. The next spread is Summer Shockers: Britney's cellulite ("mush tush"), Jack Nicholson chowing down on a sub sandwich, Kimberly Stewart - who's "scary coming and going" due to her skimpy fucking suit. If she'd just wear bigger bikini bottoms — instead of the "cheeky" style she's fond of, we wouldn't have to see her damn dimpled derriere. The next spread is Dune Duets (couples on the beach): Jennifer Lopez and Marc Anthony, Anne Hathaway kissing the nipple of her boyfriend Raffaello Follieri, Eric Dane and a topless Rebecca Gayheart.

'Bloody Hotel Bust-Up!' (Pages 44-45.) Amy Winehouse and Blake — old news!

'Katie Unzipped' (pages 46-47). A new book claims that Katie Couric is a "ruthlessly ambitious climber who stopped at nothing —- even sleeping with the boss!" Uh-oh.

'Broke Lindsay Begging For Bucks' (pages 50-51). Lindsay Lohan has no cash. Her mom's cut her off because she doesn't want her to buy drugs. So Lindsay has been asking people for money, says a source. "She asks guys she's only met two or three times to hand over $10,000. That's what she always asks for — $10K." An industry insider claims she asked him for money after her second arrest and wasn't even nice about it. "She said, 'I'm good for it, I'll make a huge comeback. I am, after all, the most famous person on the planet right now.'" Star claims that LL has tried to hit up 50 Cent and Damon Dash and that Calum Best or Wilmer Valderrama could be next. Is there anyone who still thinks Lindsay's not a total spoiled brat?

'Why He Tried To Kill Himself: Owen's Hidden Heartache' (pages 52-55). Six people (none of whom are on the masthead) were called in to write a 2 page story about Owen Wilson. They call him the "Butterscotch Stallion" at least three times and claim he was "depressed, paranoid and insecure." They run some old quotes from Owen himself — he's said that his whole family suffers from "a strain of Irish depression." Owen says, "Like, sometimes I'll notice some detail with a girl that really turns me off, like an errant hair or something. But I won't say anything — and this is an example of my paranoia — because then I'll start wondering if she's noticed something about me that really turns her off and she's not saying anything. Then I assume it probably has happened and it kind of freaks me out. I wonder what it might be and end up getting kind of depressed." Kudos to Star for digging up this "insight" into Owen's brain.
G/O Media may get a commission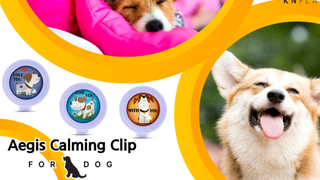 20% off
Aegis Calming Clip for Dogs
Grade: B-, but we're deducting a point for cellulite photos, so: C+
OK!

'Mommy And Me' (pages 54-57). Katie Holmes and Suri went on a one-day trip to Paris. They shopped, Katie tripped on the sidewalk and scraped her knee, etc. Katie's really independent or something. Yawn.

'Heidi & Spencer's Fake Break' (page 10). Heidi Montag and Spencer Pratt are going to have a fake breakup. They'll each sell their side of the story to rival celeb magazines, to capitalize on their "fame." We're so sick of these people.

"A Royal Engagement' (pages 50-53). Prince William and Kate Middleton might get engaged. Eventually. See, we used one sentence to tell you what took them three pages!
Grade: D+
In Touch

'The Truth About Brad And Jen's Secret Meeting' (pages 36-39). In Touch claims that a British magazine called Look printed an interview with Jennifer Aniston in which she says she met up with Brad Pitt and baby Shiloh and talks to Brad all the time. In Touch does its civic duty by alerting us that this story is completely false. Thanks! Also: more shots of Jen in her teeny tiny bikini.

'Britney Fights Back' (pages 40-41). Britney Spears hired a private investigator to follow Kevin Federline — at clubs or wherever. It's a good thing no one knows about her secret investigation so that Kevin can be observed in his natural habitat, without considering the fact that he might be under surveillance.

'Brody's Got A New Career In Jewelry' (page 46). Brody Jenner is involved in a jewelry line. He doesn't design, he just comes up with ideas: dog tags with crucifixes on them and angel wing pendants. He also admits that he needs to have someone help him use a computer. These twenty-something no-talent spoiled rich kids are pissing us off.

'Has Lindsay Fallen Off The Wagon?' (Pages 58-59.) Someone called into a radio station in Utah and swore to God that they saw Lindsay Lohan at a convenience store buying a 12 pack of light beer. They swore to God that the story was true. Okay, swearing to God in Utah makes us believe. Seriously. Plus, we can totally picture LL in some rehab therapy session going, "Fuck, I need a drink."
Grade: C+
Life & Style

'Why Angie's So Skinny!' (Pages 28-31.) Angelina Jolie is so thin, multiple insiders claim, because she's taking diet pills. A Pitt family friend spills, "Brad says she's addicted to them." They say that she began taking them in Europe this summer for more energy. We can envision a scenario in which Angie bought some energy supplements to keep up with her four kids and UN missions and Brad joked that she was addicted to them and then some cousin heard about it and the whole thing got blown out of proportion.

'Heidi & Spencer: Our Love For Real!' (Pages 40-41.) Four pictures of Heidi and Spencer in a TOTALLY CANDID OMG photo shoot on a golf course. The happy couple is wearing matching yellow polo shirts and plaid shorts. We want to vomit. This is why we call this mag Spencer Pratt Weekly.

'Whose Nose Looks Best On Jess?' (Pages 64-65.) Jessica Simpson broke her nose on the set of her new movie, as previously reported here in Midweek Madness. L&S does some creative Photoshopping and presents images of what Jess would look like with different noses — Paris Hilton's, Jennifer Aniston's, Katie Holmes'. L&S says Ashlee Simpson's nose would be best for Jess. Um, they are sisters. So duh.
Grade: D-