Police in the Australian state of Victoria have apologised for a raid on a private gay club in which over 450 patrons were strip searched twenty years ago.
Acting Chief Commissioner Lucinda Nolan apologised on behalf of the force during a press conference and meeting of the newly established LGBTI community reference group at the Victoria Police Museum.
The events that took place that night caused distress to people and had a significant impact on the relationship between Victoria Police and the wider LGBTI [lesbian, gay, bi-sexual, transgender and intersex] community. It is therefore appropriate we extend a sincere apology to the community members who were affected by the events on that night and also to the broader LGBTI community for the impact this event has had on our relationship over the past two decades.
In the early morning of August 7, 1994 the runners of the Tasty Nightclub in Melbourne, Victoria were ordered to shut off the music and turn on the lights by members of the Victoria Police. While some club members reported that police were generally pleasant, there were a few who were overtly homophobic and transphobic, demanding that the "faggots" present line up against the wall for a strip search. All 463 of the club patrons still on the premises at the time of the raid were subjected to what they describe as a horrendous and humiliating series of strip searches.
The raid has unsurprisingly been compared to New York's 1969 raid of the Stonewall Inn. Witnesses recall it as a watershed moment in the history of the gay rights movement in Australia, putting the homophobia of the department "on the front page of our newspapers" and "on our TV screens." One of the witnesses, Shaun Miller, who spoke after Nolan, said he remembered the night well, and while he could only speak for himself, accepted the acting chief commissioner's apology.
Even though it was 20 years ago, I still remember the lights going on. I remember what the police said, I remember being strip-searched - the whole thing...In my view, the police apology is genuine and sincere and a wonderful milestone in the road to improving the relationship between the LGBTI community and the Victoria Police.
G/O Media may get a commission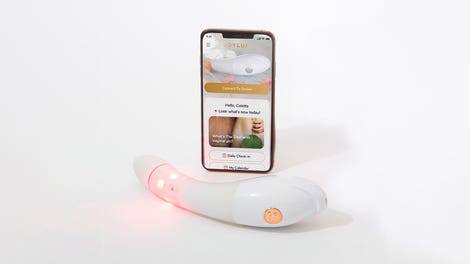 $50 Off
Joylux vFit Gold Device
Peter Alexander, a famous fashion designer of sleepwear with a strong celebrity following (including such names as Kristin Cavallari, Toni Collette, Rachel Griffiths, Katherine Heigl, Hugh Jackman, Nicole Kidman, Mandy Moore, Pink, Alicia Silverstone, Lady Gaga, Reece Mastin and Naomi Watts) was also present during the raid, which he says still "haunts" him.
The fact that innocent people in their hundreds were stripped and humiliated still haunts me and reminds me that we have to keep check on people in authority.
The reason? A very questionable suspicion of drug use and distribution. Then-Chief Commissioner Neil Comrie, who served in that capacity from 1993 to 2001, insisted that the raid was legitimate, and that drugs were found all over the floor of the club "and in abandoned clothing," but Victorian Premier Jeff Kennett called the raid "extreme" and "disturbing" and the Victorian Police's approval in the community took a dive as they tried damage control.
They failed. Future Melbourne Deputy Lord Mayor Gary Singer was also at the Tasty Club that night and watched as forty odd police officers from the Victorian Police stormed into the establishment. A lawyer by training and trade, he brought a successful class action suit for false imprisonment and assault representing 250 patrons. It cost the state AU$6 million.
It's really exciting. I think it's a great leap forward when the Chief Commissioner comes out and apologises. It's never too late and 20 years is not a long time when it comes to governments or bureaucracies. This is the beginning of a new chapter and we are seeing the police force recognise they need to deal fairly with various sections of the community. We wind the clock back 20 years and they [Victoria Police] certainly weren't doing anything then. We fought that case and it was a very difficult case to fight. It went on for six or seven weeks and every police witness gave a version of events that simply wasn't true.
Acting Commissioner Nolan recognised in her apology that the events of that night badly hurt the relationship with the LGBT community in Victoria. However, she pointed out that "great strides" had been made, which includes the fact that there are now LGBT liason officers and that each police cadet must spend time meeting a Victorian who is gay or bisexual and/or transgender as part of police training. Still, there is much left to do Nolan said.
We know there is under-reporting of homophobic, biphobic and transphobic incidents and offences. We understand that in order for these reporting rates to increase, the LGBTI community needs to have confidence that their reports will be taken seriously and their complaints will be treated respectfully. We are committed to ensuring that every LGBTI Victorian has a positive experience with our organisation, whether they approach us for help, see us in the street, or indeed work within our ranks or aspire to do so.
Watch Nolan's entire apology below:
Image via Victoria Police/YouTube.