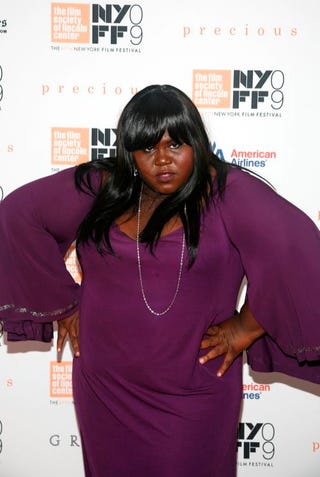 Gabourey Sidibe, Mariah Carey, Mary J. Blige, Lenny and Zoe Kravitz and more attended the Precious screening at the New York Film Festival. The flick reportedly received a standing ovation, but what about the clothes? Let's take a look…
Gabourey "Gabby" Sidibe's plum-colored gown has questionable sleeves, but she looks happy and comfortable.
IMdB tells me that Chyna Layne was in Cadillac Records and something called STD: Sexually Transmitted Demons. Her one-sleeved gown is not for wallflowers! It kind of looks like wallpaper, but I love the color, and the large bow on one side reminds me of the Baroness in The Sound Of Music.
Sherri Shepherd looks fantastic, though I think she'd benefit from a more open neckline.
71-year-old Jane Fonda appears to be wearing LEATHER PANTS. And looking fierce while doing so.
Harvey Keitel's glasses = Awesome.
Precious actress Xosha Roquemore looks adorable in this little strapless number.
Paula Patton is stunning, and I dig her interesting LGD — little gray dress — but the booties just aren't right.
Mariah Carey shows off her hourglass figure in what seems to be a long-sleeved American Apparel tee.
Mariah's husband Nick Cannon: Dapper.
Steve Buscemi and date: Charmingly rumpled.
I can't decide if Oprah's BFF Gayle King looks casually elegant, needs a shorter hem, or both.
You've gotta love the rock 'n roll nonchalance Lenny and Zoe Kravitz bring to the red carpet. Everything's a little bit off, yet it all works somehow.
I love that line in Mary J. Blige's The One" where she sings, "I ain't saying that I'm the best; but I'm the best." The lady looks amazing. You are the best, Mary!
Getty." />