American Vogue's online reality series, Model.Live, unveiled its first episode today, and I'm sad to report that it's not the irretrievably tacky, so-bad-it's-good, corporate-sponsored suckfest I was hoping it would be. (Hoping? I am a mean-spirited person.) The series — which, at $3 million (or around $31,000 a minute) is some of the most expensive online television yet produced — follows three models as they navigate the discombobulating month-long global merry-go-round that is the fashion weeks of New York City, London, Milan, and Paris.
The most well-known model featured is 19-year-old Cato Van Ee of the Netherlands, who is the veteran of a Prada/Miu Miu double exclusive (an "exclusive" is industryspeak for when a major house puts a new model on lockdown for its show alone, and a high-profile exclusive reliably precedes a major blow-up: see Kloss, Karlie, who was exclusive for Gucci and Calvin Klein the season before she walked 64 shows in three cities). 20-year-old Arizona native Madeline Kragh has spent a year working mainly in Sydney and Athens, but her New York presence is apparently nil when the series kicks off. Austria Alcántara, a shy-seeming 16-year-old Dominican and an alleged high school senior — whose age, curiously enough, was reported as 14 this February — rounds out the cast.
The first episode introduces the three…characters? Subjects? Everyone at Vogue is insisting on maintaining a distinction between 'reality show' and 'documentary', which I personally find kind of precious. Especially given the sky-high production values and manipulative piano tinkling that bookends every scene.
The main action happens when the girls' representatives at the agency IMG meet for a strategy session more than a month ahead of Mercedes-Benz Fashion Week — an agency-as-benevolent-parental-surrogate set piece that would probably irritate me more (the managers talk about the girls in all kinds of borderline condescending ways, as if they were pets) if it weren't so very dull. Meanwhile, the well spoken and composed Cato talks with some regret about seeing all her high school friends go on to university while she pursues a career that may well prove all-too-ephemeral. Austria is clearly being set up as the quiet girl fashion will deliver from her shell.
But my favorite — and the girl who seems most likely to bring a little levity to the self-serious production — is Barbizon survivor Madeline. She has an affective sort of goofiness about her on camera, and her gawky nervousness lends the proceedings authenticity. Also, she puts her foot in her mouth in the most charming way possible. "When I was in university, I was going to school," she muses at one point, before averring, "I became my own person, my own model...I don't want to be like another model."
Since the show season documented is this past Spring's, information about what happens to the girls' careers over the four fashion weeks is readily available online — a disconnect the Internet series, for all its tie-ins with Bebo.com and sponsor Express.com, strangely refuses to acknowledge. (I won't give any spoilers, but it looks like someone has visa issues, and Austria's age may stand in the way of a highly desirable gig. Who knew, in this age of 12-year-olds walking for Marc by Marc Jacobs, that there was such a thing as a model who is too young!)
G/O Media may get a commission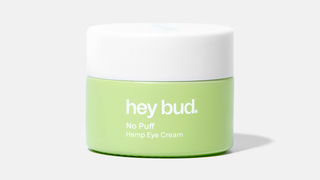 15% off
Hey Bud - No Puff Hemp Eye Cream
Model.Live seems harmless enough, and possibly even realistic, if a little sanitized and unnecessarily heavy-handed (the point about modeling often being lonely and isolating is made with voice-over from a manager talking about the "independence" the career demands while B roll of Cato looking lonely on a street corner and wafting down a river in some kind of gondola plays. Really). Ditch the sad piano theme and it could even be fun to watch; in any case it's nice to see something about the industry that doesn't have the primetime television stain of ANTM antics.
Related: Model.Live [Vogue.tv]