Another day, another story about how hard it is to make plus-size clothing.
Retailers, see, aren't dumping plus ranges because they don't want sweet ca$h money from fatsos — they're ditching them because of contracting consumer spending, patternmaking costs and production expenses. But how well do these excuses hold up?
As you might have heard, plus-size clothing has been one of the early casualties of the recession-plagued American fashion industry. Ellen Tracy has gotten rid of its plus-size division, and Ann Taylor and Ann Taylor Loft have joined retailers like the Gap and Banana Republic in only selling sizes 16 and up online. The ostensible reason? Lack of demand and higher costs. This is despite the fact that the "average" U.S. woman is a size 14, and the fact that an interest in fashion knows no size. With each new move to take plus-size clothing off the shop floor — or out of production altogether — we are told that designing and manufacturing plus-size clothes is simply too costly in current market conditions.
One good way to test just how much of these moves are motivated by sizeism, and how much by economics, is by considering another kind of size range that departs from the standard: Petites.
What petite and plus size ranges share is that neither is merely a scale version of standard size clothing. Instead, they are each specialized creations, made using different pattern blocks and different fit models. Petite clothing isn't just regular-size clothing with shorter hems and sleeves, and plus clothing isn't just a bigger cut of a standard size. In both cases, potentially fit-wrecking pattern details like the knee break, the armscye, pocket placement, torso length, waist-hip ratio, and shoulder breadth have to be re-examined. Buttons, belts, pockets, and any other final touches should be sized proportionally. The gauge of the prints on the fabrics used should be adapted, so that petite women aren't swimming in giant florals, and those of us who are heavier aren't swathed in dinky blooms. Petite women, it bears pointing out, face a lot of the same issues as plus-size women do when shopping for clothes. I winced when I watched this video of Lisa Taylor, a 4'9" woman from the UK, trying to shop. Although Taylor is extremely polite about the "petite" offerings from Selfridges department store, when she steps out of the dressing room in a wide belt practically the size of her own ribcage, it's clear that something's not right. Half the so-called "petite" pants have to be pinned at the waist; none of them look particularly flattering in the butt.



For a dress to look the same on a petite woman, a standard size woman and a plus woman — for the hem to hit at the same place on each woman's leg, for the waist to sit at the appropriate height, for the neckline to flatter but not overexpose, for the pockets to be useful, easily reached, and neither too small nor too big — requires, in effect, three totally different paper patterns, each with a separate, and expensive, development process.
G/O Media may get a commission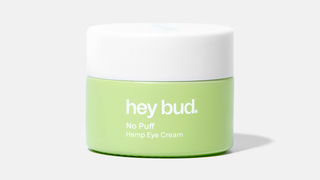 15% off
Hey Bud - No Puff Hemp Eye Cream
The argument that this intellectual property takes time and money to develop is not a wholly disingenuous one, especially in an economic climate where apparel sales are falling across the board (and faster among plus-sizes).
For mass market retailers, whose main manufacturing costs are for raw materials, not labor, fabric-use-intensive plus sizes can be seen as more expensive for this additional reason. But the thing is, the fashion industry tolerates so much ambient waste at all levels that highlighting fabric expenses is more than a little off. A factory running at maximum efficiency would in any case make up this cost when it produced petite sizes, which use less fabric.
Complicating all this is the fact that there is no single plus-size woman. People of the same weight can and do have radically divergent body shapes, and at the upper reaches of the size range, these differences are magnified. A size 16 cut for a body with average bust-waist-hip proportions won't fit a size 16 woman who is significantly bustier than the fit model, or one who has heavier hips and thighs. Retailers see a point of diminishing returns in plus sizes — each new size is a separate set of investments in fit and pattern development, and the number of women the product might reach does get smaller and smaller. Banging out a few more size 4 and 6 tops, on the other hand, is simple. What's worse, to reduce these costs, retailers rely disproportionately on stretch fabrics and looser cuts for what plus ranges they do offer — and these can often be unflattering. It's a lose-lose.
And when it comes to the designer market, which is the sector of the apparel industry that should have the money and the attention to detail to really create properly tailored plus-size pieces, there is genuine fat phobia at play. With a high-fashion example set by the likes of Anna "little houses" Wintour, it's not hard to wonder why. I've heard designers sneer at the thought of making a U.S. size 8. It's depressing as hell to watch the wave of standard capitalist interest break against a rock of pure sizism, and roll away. Pricier brands that do offer larger sizes, like Eileen Fisher, have managed to do so for years without harming their brand image.
The truth is, that if the cost of garment development were the only reason that plus-size ranges are making a hasty exit from shop shelves, we would be seeing the discontinuation of petite lines, too, because they face all of the same expenses. And that hasn't been happening. Moreover, the excuse about cost boils down to complaining that making clothes that fit most women is really hard — and that doesn't sound quite right coming from companies who are in the business of clothing women. Given the market share at stake, how is it that nobody is willing to step up and do cute, well-fitting clothes in larger sizes?
The Real Reason That Ann Taylor Hates Plus Sizes — It Has Nothing To Do With Fat-Phobia [Double X]
Petite Fashion [YouTube]
Plus Sizes A Fashion Victim [Crain's]
Earlier: Big Problems Arise With Plus-Size Clothing For Teens
Stylish Doesn't Mean Skinny: Meet The Fatshionistas
Plus-Size Clothing Production Is Downsized