Another day, another scary hazing story: today, a former Zeta Phi Beta pledge at UC Berkeley accuses her ex-sisters of beating her, making her pee her pants, and lots of other horrible behavior. Her lawsuit also reveals why for some pledges, it can be so hard to simply leave.
The Daily Californian reports that Britteny Starling is suing the sorority, several of its members, and the UC Regents for abuse she says she received during the 2010-2011 school year. Zeta Phi Beta, a historically black sorority, has a no-hazing policy, but according to Starling, that didn't stop her sisters from engaging in all sorts of abusive "underground pledging" practices. You can read the full suit below, but here are some of the awful things Starling accuses her "Big Sisters" of doing:
beating her and another pledge repeatedly on the head until a third pledge could finish reciting the sorority's history.
putting trash in her pocket and calling her "the trash can."
pouring juice on the floor and making her clean it up with her back, then tearing her shirt off.
slamming her face into the wall, making her lip bleed profusely.
making her stay awake all night (this doesn't necessarily sound that bad until you consider that it's also a popular torture method).
hitting her in the ankle with a book.
pouring tea leaves all over her.
forbidding her from going to the bathroom, causing her to pee her pants.
In hazing cases, outsiders often ask why pledges didn't just leave. Starling's suit provides some interesting answers. For one, Starling actually announced that she was going to de-pledge. But then her Big Sisters "said they loved the pledges and their actions were intended to make the pledges better people" — offering love after harsh treatment and saying that the treatment is a manifestation of said love is a time-honored tactic of repressive organizations, and also of abusers. The sisters also told Starling and the other pledges at the beginning of the process that if they ever quit they'd "become 'eternals,' meaning eternally nothing." And according to the lawsuit, "Ms. Starling felt extreme pressure to to remain as a pledge in ZPB because she was in fear that if she left the sorority, she would become an outcast, an 'eternal,' in the Greek system and the African-American community at UC Berkeley."
Berkeley has a big and vibrant Greek system, but unlike, say, Dartmouth, it's a huge school with a lot of other social spheres. But the black community there is relatively small — just 4% of enrolled freshmen in 2007 were black, and that number didn't appear to be any higher in 2010. Only a small fraction of black students appear to be in historically black frats and sororities (a 2009 report put the number at just 32 students). Still, any sorority offers a built-in friend group and way to belong, which may be especially important for students who enter Berkeley as members of a small minority. And ZPB allegedly set themselves up as the only way for Starling to belong — the alternative was total ostracism.
Starling says she had to leave school and get therapy as a result of her hazing — she's asking for punitive damages as well as lost future wages. No one from Zeta Phi Beta has commented to either the Daily Cal or the SF Weekly on the case — the sorority hasn't responded to my request for comment either. For now, all we have are Starling's allegations — and yet another story of hazing from an organization that claims it doesn't haze.
G/O Media may get a commission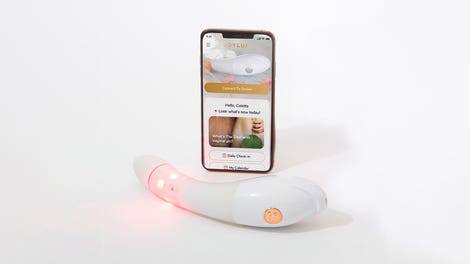 $50 Off
Joylux vFit Gold Device
Former student sues sorority for alleged hazing practices [Daily Cal]
UC Berkeley Zeta Phi Beta Pledge Accuses Sorority Sisters of Beating, Hazing Her [SF Weekly]