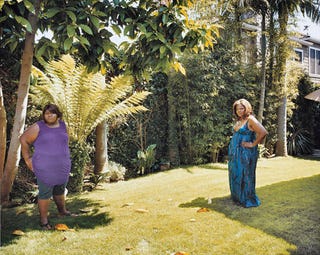 Mo'Nique, to W: "[The director] said, '…I need you to be a monster.' I was molested by my oldest brother, who was a monster to me. So to get into the mind of that woman, I remembered that monster."
She's talking, of course, about her character in Precious. The buzz for the film, which won the Grand Jury Prize at this year's Sundance Film Festival, is growing, but the subject matter — abuse, HIV, teen pregnancy — do make the movie tough to talk about. And then there's what is, by all accounts, a harrowing, realistic performance by newcomer Gabourey Sidibe.
Sidibe, according to director Lee Daniels and others, is poised and confident — yet she plays a character who is anything but. W's Kevin West writes:
"She has a boyfriend, does her thing and conducts herself like a lady," Daniels says, underscoring the vast gulf between Sidibe as a person and the fictional creation that is Precious. "Precious's character is something we worked very hard to create." And yet Sidibe's screen debut is so painfully detailed that, as Mo'Nique points out, it can sometimes feel like a real person living her life in front of a documentary camera.
Of course, it's not a documentary, but a film that promises to be very moving. Mo'Nique remembers being at Sundance when the film screened, and says: "None of those people looked like us. And it was mind-blowing when it was over, to have white men in their 60s coming up to us, crying. It killed the myth. It killed the myth that a white man couldn't possibly enjoy two big black women onscreen."
Precious Mettle [W]