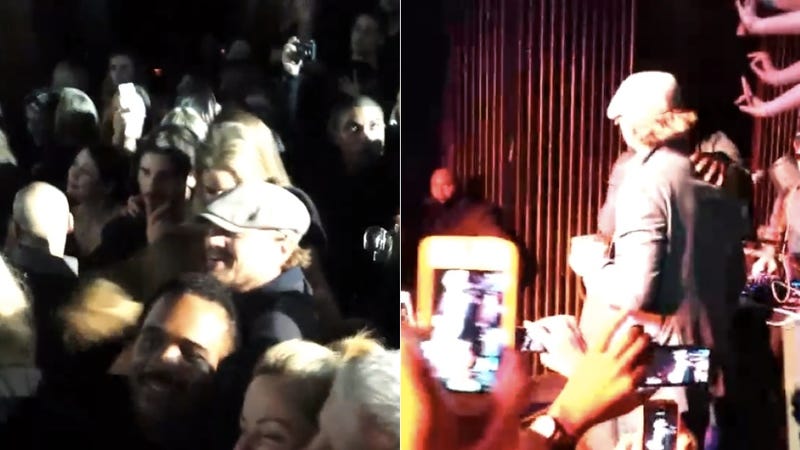 Leonardo DiCaprio, he of the preternaturally youthful face, this weekend overcame the many ageist barriers facing men when he celebrated his birthday with Kanye West, 2 Chainz (who described DiCaprio as his "brother") and Q-Tip – all while wearing a newsboy cap. Gangs of New York 2: Rap Edition anyone?
DiCaprio held his festivities at the very hip TAO Downtown in New York City, inviting his good friends to do what they do best by allowing them to both party with him and perform for him. Kim Kardashian was there!
"#NYCfor3hours#BabysAsleepNowWatchingMyBaby#2ChainzKanyeQtip" she wrote in the modern poetic style known as Hashtag.
Apparently, the songs were choice, with the rappers performing "Mercy," "Birthday Song," "New Slaves," "Gold Digger," "Good Life" and "Runaway," among others. And if the videos available are to be believed, the pretty blonde ladies sprinkled all around were "choice" as well. One of them was so special DiCaprio went in for a couple big sloppy kisses with her:
But hold up: I've saved the best for last. Here is a beblazered, benewsboycapped, bebearded DiCaprio dancing to "I'm Different":
I feel like it's my birthday right now.
[h/t Vulture]
Screenshots via RedHotPRSociety/Instagram