Because third (or however many this has been) time's the charm, Playboy unveiled a new, safe for work website on Monday. But the history behind them getting to this point might be more interesting than the actual site.
"The editorial mantra for content is to ask ourselves, 'Would you send this to a friend?'" Cory Jones, Playboy's newly hired senior VP of digital content told Ad Age about the new Playboy.com, which relegates their nude content to a specific not safe for work site and focuses on content similar to that which you'd see on sites they view as their closest competitors, GQ and Esquire. New Playboy.com features pieces on the possibility of Jennifer Lawrence joining a Quentin Tarantino movie, BuzzFeed-esque lists like "5 Great Bottle Cocktails Every Home Bar Needs" and graphics about whether you should catcall a girl (their answer: no, not unless you know her and she says it's okay). There are girls, but they're not nude, just sexy, in various states of undress.
Playboy's announcement of this new, exciting site drew raised eyebrows from at least one former employee, Scott Smith, who was Director of Content for Playboy.com a few years back. "Always interesting to see Playboy trot out the 'we're making our site safe-for-work' story every couple years," Smith wrote on Twitter, which he followed up with a few other observations about the company.
G/O Media may get a commission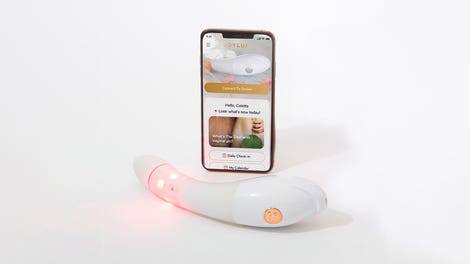 $50 Off
Joylux vFit Gold Device
As Smith pointed out, this is not the first time Playboy has tried a new SFW site, but it may be the company's most ambitious and promising attempt. In 2010, they debuted TheSmokingJacket.com, a place for this exact type of web content to live that was advertiser friendly (read: no nude girls). But that never really took off. Their big shift came shortly after, in 2011, when they officially entered a lengthy contract with Manwin, the giant adult entertainment company. It was a subsection of Manwin called Playboy Plus Entertainment that was responsible for running Playboy.com and the company's television enterprises, while Playboy Enterpises International Inc. continued to handle their own social media presence.
Around the same time, the company moved out of their Chicago office and consolidated in Los Angeles. Contracting out to Manwin was part of the company's attempt to downsize via licensing out parts of the business. But this decision was quickly recognized as a mistake. Part of the original agreement with Manwin, as a former staffer explained to Jezebel, was that magazine content would go on Playboy.com and Manwin would pay for that content. There was supposed to be editorial oversight from Playboy. But for a company that has been trying to rebrand themselves as a classy men's publication for years, giving away any control over their content was a misstep.
Manwin knew how to do what they do best – naked girls. Playboy wanted the girls but they knew their editorial content was an important part of regaining respect for the brand, and that content faded under Manwin's oversight. That explains the site Playboy launched last year on the Gawker Media platform you're on right now, PlayboySFW.kinja.com, which is all writing, no girls. Sites like PlayboySFW could "be a home for the 'I read it for the articles' mantra to actually come back and be relevant," the former staffer said.
For about the past year, Playboy has been extricating themselves from that decade-plus contract with Manwin, and trying to figure out what they want to be: a licensing company focused on the Bunny ears or a media company (or both)? The licensing brings in a huge amount of revenue, but the media is the brand.
Playboy was and is still plagued with the regular issues that legacy print publications suffer from; the digital and magazine teams are separate, though content from both will live on this new site. Other issues can be attributed to the tumultuous past few years; with staff turnover, it's been hard for the brand to keep a clear vision. They've hired a bunch of new executives who seem to have an idea for what the company is, though how original that idea is remains to be seen. Do they really want their website to consist of, as they explained to Ad Age, links that your mom would click on Facebook?
"The foundation of the brand was to push buttons," the former staffer said, one which you can see boldly outlined through their Twitter bio: "The brand that's been pushing (and removing) buttons since 1953." And in many ways, the company is closer to regaining the respect they had in their glory years when they were best associated with that mantra than they've ever been. "I was in the airport and Playboy was next to Esquire," the staffer pointed out. "The advertiser quality is there."
Playboy's greatest strength has always been this provocative nature, whether you loved it or hated it. But right now, the company's biggest challenge is trying to figure out how to balance their girls with their licensing with their actual content. They are trying, through fits and starts, to do what they've attempted to do through projects like their app: to be the heterosexual man's ultimate lifestyle publication. They are not GQ or Esquire or even Details, all of which skew a little metro for some people's taste. They are Playboy, naked girls and all.
But trying to remember that and combine all their separate entities into one cohesive unit will be a challenge (to say nothing of handling the inconsistencies between their editorial message and their NSFW content). "I hope they know that they're not going to be better than BuzzFeed," the former staffer said of their new direction. Not better, just different, yet again.
Image via Playboy.com