With the Dow down more than 600 points yesterday, and our economy rapidly approaching Hoover-era levels of fucked-upness, Lucky's affordable options just seem a bit insufficient. Sure, the magazine has its "Platinum/Gold/ATM" feature, but when the "ATM" option still advises paying $20 for a specialized zit-popper (fingers: free), we fear the editors don't have our impecunious interests at heart. To remedy this, we've created our own guide to more recession-friendly versions of products featured (read: advertised) in Lucky. Your bank could implode any day now, taking all its ATMs with it, but our suggestions can be purchased with a sock full of pennies, or with the change in the creases of your couch.
Gold-tone pocket watch, $325.
Our version: your cell phone. It already has a clock on it, so just stick it in your pocket for a convenienty take on Lucky's fashiony, gleamy idea.

Bobbi Brown lip crayon, $22.
Our version: real crayons. Why stop with plum when you can have burnt sienna and cerulean too? A 64-pack is only $5.99, and they're nontoxic, so you can smear them all over your mouth.

Embellished heels, $150-375.
G/O Media may get a commission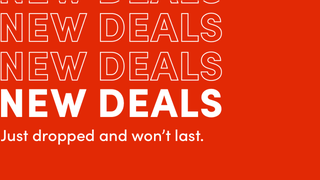 Up to 70% off
Wayfair - Cyber Week Deals
Our version: draw on your Chuck Taylors, like in sixth grade. For that "metallic" look, use glitter pens.
Diamond "Chiodo" ring by Gucci, $6,990.
Our version: tie a string around your finger. It's a ring, and it's a vague reminder of something or other you have to do.

Isomers anti-redness serum, with cactus, $30.
Our version: just rub your face on a cactus. It won't get rid of the redness, but it will sure distract you.

70s-style saddlebag, $480.
Our version: your own saddlebags. Lucky's version stores lip crayons and expensive watches — ours store energy for the lean months ahead. We recommend lots of Ellio's Pizza to insulate your body and soul against the cold, cold world. Lucky Magazine [Official Site]