As many suspected, peanut butter was involved. Here, photographers Leda and Pierre St. Jacques on charges that the dog was exploited, their choice of Jackson the dog over their own poodle, and why Leda suggests her single friends consider dogs.
English is not the first language of either photographer (Leda is Italian-Canadian, Pierre French-Canadian) and questions about say, the ethics of dog arousal have not traditionally been a part of my repertoire, but we all did our best in our recent chat about their controversial fashion editorial for the Canadian online boutique Ssense.
The shoot, Leda explains, was originally supposed to be a simple matter — model and a backdrop — but at the last minute the client wanted them to mix it up. "We had this idea to play with dogs," she says. The two of them have a dog (a poodle) but asked to borrow the stylist assistant's dog. "It's more interesting. It's big," Leda says. Why not the poodle? "She's so cute. She's so sophisticated. And it's a female. It's very elegant. It's not this very sexual dog," Leda says.
The idea from the beginning was to shoot a "sexual suggestion" involving the model and the dog, and the client readily agreed, they say. In came the peanut butter. "I don't think the dog would have spontaneously played the game," says Pierre. "He was having a good time just because of the peanut butter."
G/O Media may get a commission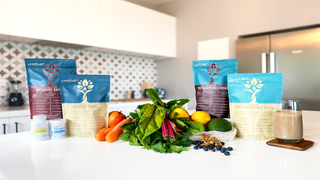 They both deny that the dog was being exploited. "Instead of spending a boring day at home alone, he had a day in the studio with the poodle. He played all the day with my dog and ate peanut butter all the day," Pierre says. By the way, the photographers say the dog's name is Jackson — "because he loves children."
Leda says what you can't see in the photos is that they were laughing the entire time, and that the dog "has a lot of — how do you say it? — saliva." The model, whom they stress is twenty or twenty-one years-old and "aware of all the implications of this photo shoot," didn't mind, they say.
"Me personally, I don't have a fantasy with an animal," says Leda. "But I'm very open. If some people, they prefer dogs, I don't have a problem with it."
She adds, "I'm 38 years old and I have a lot of friends, women, and they are not able to find a man. It's really difficult. They are really difficult, and they have a very specific idea of what a man is supposed to be. It was funny to say, 'It's too difficult to find a man, so you can just find a dog. It's so complicated sometimes that – you can do a joke: if you can have pleasure with yourself or have a dog it's better than a man."
They urge people "just to be open," as Leda puts it. "Some people like hamburger and some people like foie gras. Maybe the foie gras is not good for the duck. But it's very delicious."
Puppy Love [SSense]
Earlier: Must Love Dogs: Model Gets Awfully Cuddly With Pup In Canadian Boutique's Shoot
Related: Leda & St. Jacques" [Official Site]