Procter & Gamble says its website BeingGirl is meant to give young women important advice about puberty and their bodies. But some groups say it's actually a ruse to sell products.
According to the Guardian, many kids learn about BeingGirl in schools as part of health education programs. But the website also includes endorsements for products, including hair removal supplies and special pads for use with "sexy string" underwear. And many in Britain are upset. Says Rebecca Mordan of the London Feminist Network,
It's literally telling them that 'BeingGirl' is to be hairless as soon as, if not before, you have your first period – bearing in mind that some children start their periods as young as eight or nine. [...] This is literally adverts for sexy knickers and hairlessness. Everything about this site is abusive to children and abusive to women. I think it should be buried.
While "abusive" may be a little strong, it's true that BeingGirl definitely pushes Procter & Gamble products. One featured article called "Makeup For Teenagers" reads, in part,
At your age, you don't need foundation. In order to cover up your blemishes, use a concealer. Lightly dab concealer on your blemish. Blend it by lightly brushing outwards. Let it dry and then set it with a cotton swab dipped in loose powder. Need to brighten your eyes? CoverGirl has great make up for teenagers. Mix CoverGirl's Invisible Concealer with a light eye shadow (choose a color like light pink or blush) and blend, starting at the corner of your eyes and move outwards.
G/O Media may get a commission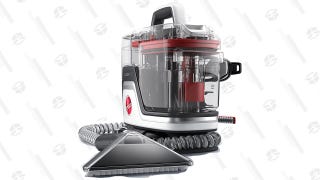 Save $10
Hoover CleanSlate Plus Carpet & Upholstery Cleaner
CoverGirl is owned by Procter & Gamble. So not only is the company hawking its own makeup here, it's implying that while teenagers may not "need" foundation, they do need concealer and eyeshadow. Giving kids this advertising pitch alongside health information about puberty may indeed be misleading. Kids might think that their schools are endorsing Procter & Gamble products, or that these are somehow better, safer, or more standard than others. And as Mordan points out, connecting menstruation with hair removal and sexy underwear could be damaging, convincing girls that puberty obligates them to begin certain beauty routines. Kids are already getting this message loud and clear from magazines and pop culture. They don't need to be getting it in school.
BeingGirl Website Accused Of 'Exploiting' Teenage Girls [Guardian]