In late March, Indiana passed House Enrolled Act 1337, a comprehensive abortion bill that placed a series of familiar restrictions on the procedure; from requiring doctors to have admitting privileges at nearby hospitals to restricting abortion based on race and gender and outlawing abortion based on disability. Hidden in the middle of the bill was a requirement that women who are aborting because the fetus has a "lethal anomaly," receive counseling about perinatal hospice care as well as a list of providers. Indiana was the sixth state to include perinatal hospice care in an omnibus abortion bill.

In the hands of state legislatures, perinatal hospice care is used as a political bludgeon meant to coerce women into carrying fetuses to term at all costs. But for many women, perinatal hospice care has increasingly become an alternative to abortion and part of the grieving process. The Washington Post reports that perinatal hospice, "a birth plan about death," is now one of many options that women carrying fetuses "incompatible with life," have available to them.
The professionalization of perinatal hospice care dates to 1980. Developed at a children's hospital in Denver, the program, the Post notes, was a separate grieving room of sorts connected to a neonatal intensive care unit. Nurses attached to perinatal hospice received special counseling instructing them how to talk to parents at moments of emotional stress.

Now there are roughly 202 perinatal hospice programs in the United States. The programs focus simultaneously on grief as well as medical instruction. The Post reports:
The care model is a bundle of services, untethered to a hospital or medical center. Hospice nurses and social workers help families prepare for loss, coaching parents on what to say to siblings and co-workers. They take calls at 2 a.m. They recommend family therapists for couples whose relationships strain under grief. They teach mothers how to deliver painkillers to a dying infant, should the baby live long enough to go home.
G/O Media may get a commission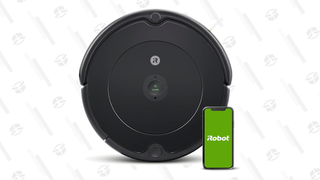 35% Off Black Friday Deal
iRobot Roomba 694 Robot Vacuum
Though not political in its origins, perinatal hospice is deeply tied to the pro-life movement. In addition to Indiana, states like Minnesota, Arizona, Kansas, Mississippi, and Oklahoma all require women to be given information on perinatal hospice, almost always presented as an alternative to abortion. Critics of such legislation, including the American College of Obstetricians and Gynecologists, argue that it makes deeply personal and difficult private decisions into the subject of often hostile public debates.
Yet it's clear that perinatal hospice is a service increasingly in demand. Undoubtedly perinatal care raises a host of ethical issues, for both mother and baby, and those discussions are bound to sticky subjects like quality of life, pain, grief, and mourning. The Post's story profiles three women who chose perinatal hospice and it's certainly worth reading in full.
---
Image via Ian Waldie/Getty.