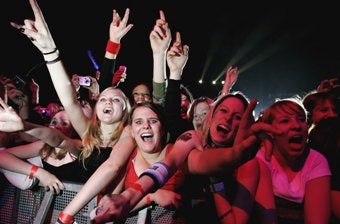 One last reminder: photographic evidence of your super fandom is due to us by the end of today. Not quite sure what we're looking for? A description, after the jump:
We're looking for pictures that celebrate your devotion to everything from books to bands to television shows to sports teams and basically anything else one can buy a t-shirt for. Costumes, posters, scrapbooks, jerseys, tattoos, bedroom walls plastered with pages ripped out of Tiger Beat, pictures of collections, concert photographs, shots from Harry Potter parties, Team Edward/Jacob/Bella paraphernalia, pictures of TARDIS cakes: everything is welcome. And if you'd like to show the world your devotion, but not your face, please alter the photographs before sending them in.
Just send the pics (with your faces blurred out, if that's what you'd prefer) to me by the end of the day (and by the end of the day, I mean midnight or so) with "Past Fashion" in the subject line. Include a brief description of the photo, if possible. We've already received a ton of submissions, and a roundup of your fellow readers showing their devotion to everything from Harry Potter to David Bowie to Doctor Who will be posted some time this weekend, so get your pictures in before it's too late!
Earlier: Call For Submissions: Past Fashion: Super Fan Edition