Cancel whatever lame ass plans you have this weekend, because we, my friends, are going to party at Paul Manafort's mansion in the Hamptons.
Manafort is currently in jail while on trial for bank and tax fraud and more than a dozen other financial crimes, so it seems like he's going to be out of town for a while. Everyone knows what that means: party at Paul's place!!
Thank you to landscaping business owner Michael Regolizio and audio-visual design company head Joel Maxwell, who revealed on Thursday during their trial testimony that Paul's got an MTV Cribs-worthy home, a real-life Kokomo, just hours from New York City.
This sweet oasis makes your average Hamptons mansion look like an outhouse. It's wired with a $2.2 million audio-video system, complete with Apple TVs and a $10,000 karaoke machine. In his closets, you might just be able to snag an ostrich-skin jacket or two.
Manafort's home boasts, according to Regolizio, "one of the biggest ponds in the Hamptons," complete with a waterfall, and per CNN, "a white and red flower bed in the shape of an 'M', 14-foot hedges, "hundreds and hundreds of flowers," and a tennis court. Goddamn.
G/O Media may get a commission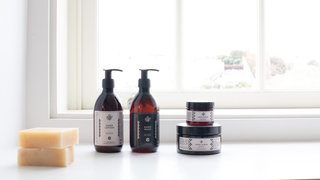 Exfoliate and Hydrate
The Handmade Soap Company
It is your civic duty as an American to cannonball into that pond, emerge covered in pond scum. Maybe barf in his well manicured hedges. Drain the swap, so to speak! It's what Paul would want.